Zander came into my life at a point where I believed pit bulls were dangerous dogs. I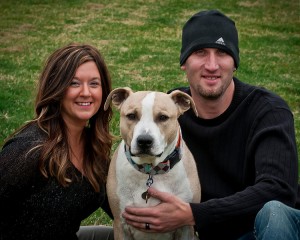 listened to the media and I believed the hype.  I begged his daddy not to get him. As usual, he didn't listen.  I thank God every day that he didn't listen to me.  When Zander's daddy brought him home, I was apprehensive.  However, it didn't take long for his cute little tan and white face to win me over.  It happened almost instantly.  He was such an adorable puppy and he grew into a wonderful ambassador of the breed. 
When he was little, he loved his stuffed squeaky frog SO much and to this day if he saw a stuffed frog he had to have it.  Zander had to sleep right in between his daddy and I in the pillows every night and when he got sleepy he would smack his little lips until he drifted off to sleep (you still did this 8 years later). How quickly Zander became a fixture in our lives.  He became my little buddy and all my worries and fears disappeared.  Day by day Zander's gentle soul taught me the love and loyalty of having a pit bull.  I cannot put into words how he has impacted my life.  Zander is the reason we now have four beautiful pit bull children.  I cannot imagine how different our lives would be if we would have decided not to bring you into our lives.  
On June 29, 2012 our world came crashing down.  Zander had been urinating in the house which is not normal for him…he had been house trained with no accidents for almost 8 years at the time.  At first I thought maybe he had a UTI.  I scheduled an appointment at our vet.  While we were waiting on our appointment date, he started developing muscle tremors.  I did some internet research and I had convinced myself that maybe he was developing diabetes.  We went to our appointment on June 29th.  Tests were run.  UTI was ruled out.  Diabetes was ruled out.   After doing a thorough blood test, it was determined that Zander's calcium level was off the chart.  We were told that there are only two things it could be…a benign parathyroid tumor or cancer. Devastating.  They had to do another blood test and send it off to an outside laboratory to test for the parathyroid tumor.  When the test came back normal on July 10, 2012 we knew it was cancer.  Our vet referred us to an oncologist.  We saw her on July 11, 2012.  She took a needle aspirate of his lymph node and told us she would have the results the following day.  July 12, 2012, brought confirmation that Zander had lymphoma.  He started chemo the following day.  Zander was diagnosed with T cell lymphoma which is more aggressive and also more resistant to chemotherapy.  He immediately went into clinical remission with chemo.  His remission lasted until October 16, 2012.  He had become resistant to that particular protocol.  Therefore, we switched protocols (a couple of times).  Nothing was really working until we tried Elspar on November 20, 2012.  He immediately went back into remission and stayed.  On January 28, 2013 he developed an allergic reaction to Elspar.  We knew that might eventually happen.  The more you get the drug, the higher the chance you will develop a reaction.  It was a fairly mild reaction however we were told that he could not have any more of the drug because the next reaction could be fatal.   This was really the beginning of the end.  He came out of his second remission and never gained a third.  We tried other drugs but they were making him sick, something he had never been since diagnosis.  We determined that it wasn't fair to continue chemo for us to get more time with him meanwhile it was making him sick.  The cancer itself had never once made him sick.  He got his final dose of chemo on February 26, 2013.  Once we stopped chemo, his already large nodes grew very quickly.  Zander began throwing up after every meal…something that to us meant the cancer had invaded his GI system.  On Tuesday, March 26, 2013 after speaking with our vet team we determined that it was time to let him go.  Zander probably could have lived another 1-2 weeks; however his quality of life was diminishing VERY quickly.  I made him a promise when I found out he had cancer.  I told him that I would not let him suffer.  I would let him go while he still had his dignity.  That was the least I could do for him, after all he had given me during his life. The end result of his story would not change…cancer was going to take him.  What I could control was how it ended.  I did not want him struggling to walk, struggling to eat, etc. I wanted him to never know that kind of pain. We scheduled an appointment for our vet to come to our house on Saturday, March 30, 2013.  That Friday I took him on a road trip.  We saw his vet team one more time, his grandparents, his friends.  He had chick filet, ice cream and even a hamburger.  It was a memorable day and overall he had a good time.  On Saturday March 30, 2013 at 12:14 p.m. Zander crossed the bridge peacefully at home in our arms.  What he left behind was something that is priceless.  He taught us about pure and unconditional love.  He taught us about loyalty and facing struggles with no fear and absolute courage. He wasn't just our dog…he was our son. Yes, his last 10 months of life was a complete roller coaster but I'm so thankful we were able to get that extra time with him and make every moment count. He taught me to value every moment in life and not to hesitate to tell others how much they mean to you because life is so short.  
In the end, cancer took our beautiful boy from us.  However, cancer cannot take all the gifts and love he gave to us during his all too short life. We will cherish that forever.
Candy & Grant Hulsey 
In memory of Zander
August 30, 2004-March 30, 2013