Please hug your dogs a little tighter today, in memory of Yoshi- the most special of special dogs who was released to the Rainbow Bridge on April 10 by his loving family. Yoshi was a real trooper. As a puppy he had an injury that required surgery on his eyelid at 5 weeks of age and he wore a cone for several weeks. That did not slow him down. Yoshi even learned to retrieve and heel with the cone, his tail always wagging.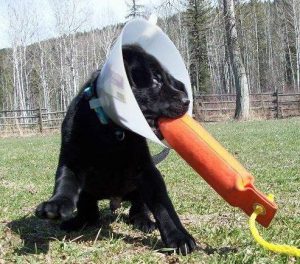 Puppy Yoshi was very adventurous and often the first to try new things, from sliding down the sand pile to swimming in the kiddie pool or tackling the cat all while wearing that cone. Due to his injury, Yoshi stayed a little longer at Eromit Acres, giving Tim and Erin an extra large dose of Yoshi. After his doctor gave the all clear, Erin contacted Judy Bassett, who was on the waiting list for a different litter, and asked if Yoshi  might be the right dog for her. Judy did not hesitate and soon Yoshi and Erin were on their way to Vancouver for a plane ride down to meet Judy and family in California. It was love at first sight where Judy and Yoshi developed a special bond.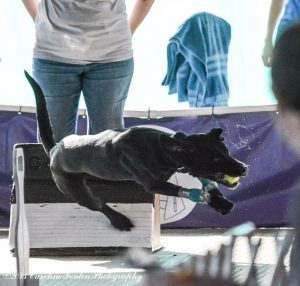 Yoshi trained for flyball and became a champion on the Woof Gang Flyball Team  in no time. Most, however knew Yoshi for his big, goofy, fun loving nature and absolute enthusiasm and joy with every aspect of life. Yoshi even tried dock diving.
Almost three years ago Mike, Judy's husband passed away. Yoshi took on the role of protector. Everyone who met Yoshi adored him, especially the ladies. In the flyball lanes Yoshi always looked out for Lucky, a small Cairn Terrier. Lucky loved Yoshi. Curie was another of Yoshi's numerous loves. So were Bella, Bindi and Valyn. Surprisingly grumpy Kelso loved Yoshi even though his ever wagging tail beat her face senseless at the start of every flyball heat. Yoshi was so nuts about flyball a mattress was held at the rear of the lane to keep that crazy boy from running into any barrier. The youngest team member, Wayne, was knocked over several times while holding that mattress. The largest part of Yoshi's heart, however, was for Judy and Yoshi became one of the biggest lap dogs ever to grace a lap.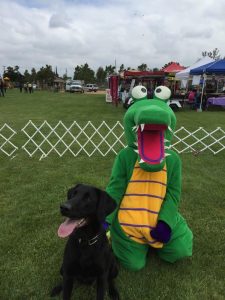 Last fall Judy and Ellen noticed that Yoshi was not moving right when he stopped and did not want to get the ball at a flyball tournament.  Yoshi was immediately taken to the vet who observed an area of concern on Yoshi's x-rays. The oncologist confirmed that Yoshi had bone cancer. The cancer, caught early and with a low grade tumor gave hope that there were treatment options available. Judy, Ellen and Ellen's husband Jeff made it possible for Yoshi to receive the best of care with radiation surgery, chemo, bone strengthening procedures plus physical rehabilitation. Yoshi was happy throughout the course of all of this and it looked like the cancer was in remission.
Unexpectedly Yoshi started limping quite badly and the decision to amputate his rear right leg was made. The radiation that destroyed the cancer compromised the integrity of the leg. Amputation was the proper choice because the femoral head had shattered. Yoshi adapted to three legs quickly, but within a week of amputation Yoshi was in obvious pain and could not move his hind quarters. The happy tail could no longer wag. The confusion and pain were visible in his eyes, but those eyes still shined with unconditional love and trust. Diagnosis, ruptured disc.
Although surgery may have corrected the problem, the decision to no longer put Yoshi through additional painful procedures was made by those closest to him. And so with Judy holding Yoshi's head in her lap, Ellen's arms around him and Jeff nearby, Yoshi crossed the Bridge.
Yoshi was only seven years old but he lived each day of those seven years to the fullest. Gone in body, but his spirit and legend live on  – FDCH Eromit's Tatsuyoshi TFP-II (March 4 2010 – April 10, 2017).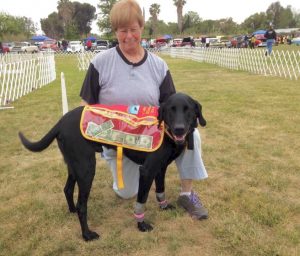 Yoshi made a wonderful donation dog to help Chase Away K9 Cancer back in 2014.
__________________________________________________________
Thank you Yoshi for sharing all your love with Judy, Mike and all that were blessed to have met you.  I am so sorry cancer took you away from your family and friends so young.  I know you are back with your dad Mike and are looking over Judy and friends  from above knowing we will continue to fight cancer in your honor.