There are all kinds of heroes and we'd like to recognize our business and corporate heroes who support our cause. We are very fortunate to have several businesses dedicated to Chase Away K9 Cancer. We are very thankful to the companies listed below for allocating a portion of specific proceeds to the campaign. Please consider these other opportunities to support the Chase!
---
Royal Canin
Premium Dog and Cat Food http://www.royalcanin.us/
---
Three Scoops of Vanilla
I was honored when Cera requested that I make a bracelet in honor of her amazing girl, Chase. I came up with this piece. The colors of the beads in this bracelet are that of those found in the Chase Away logo. The charm on this piece represents the dogs that so many of us have lost to cancer (me included) and how we hold them in our hearts. I finished this piece off with a bit of orange bling that represents the color of Chase's collar. A donation of $10.00 will be made to Chase Away K-9 Cancer for each of these bracelets that are sold.    Erin
Chase Away K9 Cancer Bracelet link
Thank you Erin for producing such a beautiful peace of jewelry for Chase away, I let Mama to be Elsie May model it for me 🙂
---
Vetri-Science Laboratories  / GlycoFlex

Our good friends from Vetri-Science are always there to help us out anytime we call, they provide donations for raffle baskets that we use at events across the country along with making monetary donations to help us Chase Away K9 Cancer. If you are looking for great vitamins and other good nutrition for your pets visit please their site.
---
Menopaws Agility
Check out the great stuff from Menopaws and when you make a purchase at their booth at agility trials they will donate a dollar per purchase to Chase Away K9 cancer. They have a great line of handcrafted jewelry, gifts, and t-shirts and be sure to thank them for their support of Chase Away K9 Cancer.  Pat's great products are also available online so please show her your support !!
---
---

PRT Products is extremely proud to announce that we are partnering with Chase Away K9 Cancer! This is a cause that is close to our heart and we will be introducing a line of products that bear the Chase Away logo, including blinds and apparel. A portion of the proceeds from these sales will be donated to Chase Away in order to help continue the fight against K9 cancer! Join us in this fight!!!
Checkout PRT Products for your Retriever training products
---
Looking for something special to commemorate the life of your best friend, you can checkout the Beautiful Pet Urns at Pawsitively Elegant and tell them "Chase Away K9 Cancer" sent you.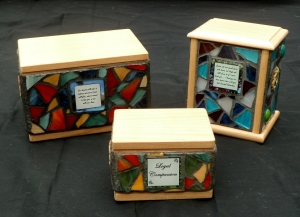 ---
My name is Nicole Rexing, BA, RVT.  I became a Registered Veterinary Technician in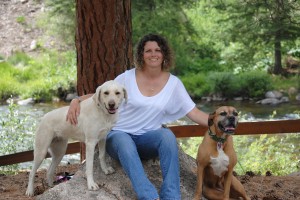 December of 2000.  I've seen cancer affect many clients. It touched me with the sudden death of my first boxer mix, Lucy.  She died of cancer in October of 2005 at the age of 10 yrs.  I then acquired Angel, a Boxer, from Bluegrass Boxer Rescue in Hawesville, KY in July of 2006.  She had an unusual drive for water.  So I entered her in our first DockDog event in Evansville, IN in June 2008.  We were hooked!!!  That is when we learned about Chase Away K9 Cancer. Later that year she was diagnosed with cancer and a torn ACL.  She got her ACL repaired and cancer removed but she no longer wanted to jump from the dock. So she was retired from DockDogs.  I borrowed a Labrador Retriever from a breeder friend since Angel could no longer compete.  Angel still came along and wore the Chase Away K9 Cancer Vest.  We would walk around in between waves.  Sometimes I would just drive to an event to just support my team and walk Angel around to get donations.  She loves all the attention.  Since then Angel has been diagnosed with 4 different types of cancer. My dad was diagnosed with Melanoma Stage 4 in May 2010. I was diagnosed with Melanoma in September 2012.  So you can see why Chase Away K9 Cancer is near and dear to my heart. I work for a Holistic Veterinarian for 8 years.  I understand and have seen how herbs and natural remedies can help us and our pets. From a friend I learned about a product called Protandim.  I took the peer-reviewed research about Protandim and cancer to my veterinarian. She read over it and highly recommended my dog take it. Canine Health is the canine version of Protandim. Canine Health is a scientific breakthrough for our loyal companions. It also has the extra benefit of joint support. These products have helped my dog, me and my family so much.  I am happy to report that we are all in remission. So I would like to share these products to help others and thought I could also help Chase Away K9 Cancer by donating all the proceeds to this wonderful organization with a great cause!  God Bless Chase Away K9, with their help we will find a cure!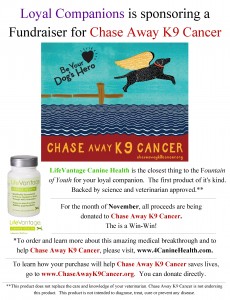 ---
 Wishcuit
We are very pleased to announce that Wishcuit will be donating 50% from sales of their stickers to Chase Away folks. Kelly at Wishcuit created her Love Adds Up campaign after losing her best friend, Cain and her goal is to sell 1 million stickers. Visit their site and be sure to choose Chase Away in the drop down men…u when ordering (under choose your charity). A huge thanks to Wishcuit and let's show them just how much love we have and how quickly it adds up!
---
 Photography by M
Marilyn and Marty Barrett specialize in photographing dog sporting events such as agility trials and dock diving contests.
In honor of the two dogs they lost to cancer, Dusty and ShyAnne, they are donating a portion of their proceeds to Chase Away K9 Cancer.
To see if they will be at an event near you, or to schedule them at your event, visit Photography by M's web page
Thank you, Marilyn and Marty, for your ongoing help to Chase Away K9 Cancer. We know that Dusty, ShyAnne and Dunkin are very proud!
---
Does Your Business Want to Get Involved?
If you own a business and would like to help or if you are interested in corporate sponsorship, please contact Cera Reusser at chaseawayk9cancer@gmail.com