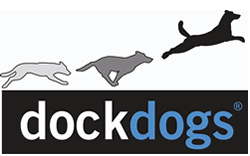 Never heard of DockDogs? Officially launched in the United States in 2000, DockDogs competition consists of dogs using a 40 foot dock to jump into a pool of water. Dogs of any size, shape, age and breed (mutts too!) compete in three events: Big Air (long jump), Extreme Vertical (high jump), and Speed Retrieve.
In Big Air, the handler throws a toy of choice (no food items are allowed) into the water and the dog has 90 seconds to go after it. The longest jump (after two attempts) wins the competition. In Extreme Vertical (EV), a "bumper" is attached to an adjustable pole that hangs over the water and the dog must leap off the dock and either knock the bumper off or grab it in his or her mouth. The dog with the highest jump (after two attempts) wins. In Speed Retrieve it's a contest to see which dog can swim the fastest to a fixed bumper at the end of the pool. The fun, relaxed atmosphere and the teamwork between handler and dog have made DockDogs the fastest growing canine sport!
The ACVIM Foundation is deeply grateful for the support of the entire DockDogs community and CEO Grant Reeves for their involvement in our Chase Away K9 Cancer campaign. Fundraisers at DockDogs events around the U.S. and Canada have helped raise over $200,000 for canine cancer studies!
For more information on how you and your canine companion can participate in DockDogs, visit their website, www.dockdogs.com.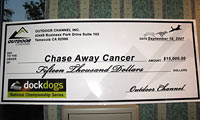 We would also like to thank the Outdoor Channel for their support of Chase Away K9 Cancer by donating $15,000! You can watch DockDogs events on the Outdoor Channel. For more information click here.
---
DockDogs® Unveils the New Jump-a-Thon™ Program!
DockDogs is launching a brand new fundraising program around their 2009 National Championships and Chase Away K9 Cancer will be the beneficiary of this year's program. Thanks to DockDogs for their unwavering support!
---
Chase Away K9 Cancer Segment
We are deeply grateful to Winnercomm for producing the segment and to the Outdoor Channel for airing it. Thank you for helping us raise awareness of Chase Away K9 Cancer.