Making an Impact on Canine Cancer – Breakthrough Technology Developed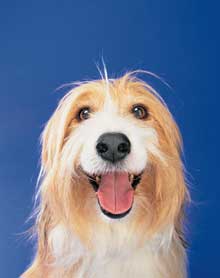 Canine hemangiosarcoma is a highly aggressive tumor of the blood vessels that is oftentimes fatal. Despite chemotherapy, survival times rarely exceed 6 months, and new approaches to the treatment of this cancer are desperately needed.
Dr. Nicola Mason, DACVIM, of the University of Pennsylvania received a two-year Chase Away K9 Cancer grant aimed at developing a method to generate libraries of antibodies of canine origin that may ultimately be used to treat hemangiosarcoma. The use of antibodies to target tumors has shown promising results in human clinical trials, but was previously unavailable for dogs. But now Dr. Mason and her team have come up with a powerful new technology which is the first of its kind in veterinary medicine and will allow them to identify, isolate, and use antibodies to seek out and kill tumor cells. Work is still being done but this powerful new tool has widespread applications for many different types of cancer as well as inflammatory and auto-immune diseases.
This type of breakthrough is due to the generosity of all Chase Away donors and volunteers and brings us one step closer to ending cancer in dogs.