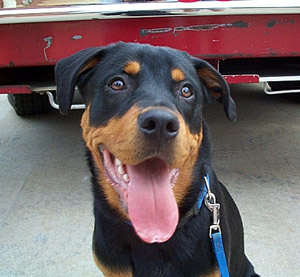 Argo was born on Dec. 3, 2000 and left me too quickly on Dec. 16, 2003 at barely 3 years old. We had been joined at the hip – doing everything together – since she came to me as a 10 week old puppy. Wherever I went, she went too; I even took her to work a couple of times! She loved to play with other dogs (there were many trips to the parks) and she loved people- on Halloween she was first to the door when the bell rang and greeted each masked little person happily with never a growl; just so happy that "she was having visitors".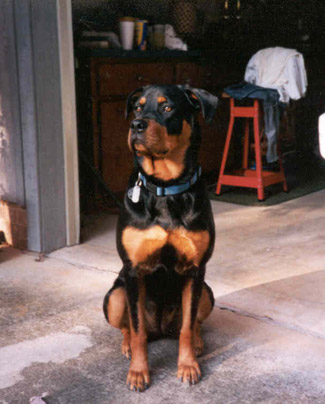 I first noticed she was having what I thought was incontinent problems in late November, 2003. Two weeks before Thanksgiving I took her to our vet and was given pills to help with the problem. The week before Thanksgiving, I called again since the pills were not helping and it was getting worse. On the Friday after Thanksgiving, I took her in for an ultrasound since the vet was unable to detect anything and thought it might be a kidney infection. I stood with her as she lay on the exam table, never wiggling or moving a muscle, no sedatives either – only my hand on her shoulder as the technician ran the machine over her shaved belly and side. It turned out she had cancer of the kidneys which had already moved into the lymph glands. I asked the vet how long she had, thinking 6 months to a year, but was told 30 days at the most. She died less than 30 days later. Our vet came to the house and she went peacefully to sleep with her head in my lap and my voice in her ears telling her how much I loved her.
~Kathy Boone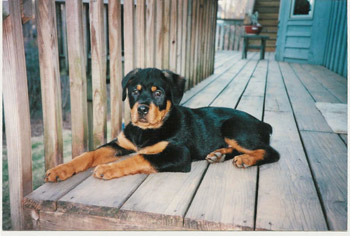 I grew up the best way possible – "in the company of dogs" – I can NOT remember a time in my life when there wasn't at least one 4-legged family member. After my mother's loss of Argo, and learning that canine cancer claims on average one dog in three, every time I look at my three girls that statistic haunts me….1 in 3…totally unacceptable; I knew I had to do my small part to help Chase Away K9 Cancer.
Rest in Peace my sweet sisters. Argo and Dazee, you are missed every day…
Steph Jones