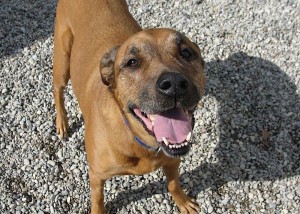 Words could never describe the amazing love I was blessed with for nearly ten years.  The closest I could come to serving her justice would be: BEAUTIFUL SOUL. Kayla had the ability to see right through you – into the deepest part of your soul and stir up emotions you had forgotten, or perhaps never even knew you had.  When you were happy, no one could have been happier for you. Prancing around, jumping, bounding into you with all the enthusiasm in the world.  Simply trying to tell you, "I feel it too! I feel it too!"  If you were sad, heartbroken, or depressed, she immersed herself in your sorrow. Taking it all on for you.  Granting you the ability to be released from your pain by never leaving your side.  She felt the damage that had been done to your heart.
I knew she had a dramatic effect on me from the beginning, but I never knew the impact she had on others until she was diagnosed with transitional cell carcinoma.  All of us have experienced heartbreak, or we wouldn't be on this site.  So I will spare you the awful details.  If you are interested in learning about this disease, look up TCC.   There are hundreds of horror stories.  But that is not the way Kayla would want to be remembered.
She fought hard. Hard because she wasn't ready to die, harder because she wasn't ready to let go of me and knew I would never be ready to let go of her.  Kayla knew the vets and specialists had taken a liking to her.  She knew they were doing everything in their power to grant her a few extra months of the life she loved so dearly.  We tried everything: a laser ablation procedure, a balloon catheter procedure, chemo, and a urethral stent.  She had spent weeks in ICU with a urinary catheter; and she developed MRSA.  My only stipulation was that she not experience pain.  I would never put her through pain!  And still her desire to live was remarkable.  I visited her twice daily until she got to come home.  We were all in celebration mode.  Little did we know that she only had a few weeks left.  I can't tell you whether or not I would elect to do all of the same things for another animal.  All I know is what the doctors and I saw was a fighter.  She wasn't giving up.  She had saved my life years before, and I was determined to do the same for her.  Eventually, complications and the rapid spread of her cancer led us to her final day.  But even the two days prior to that day, she just wasn't ready to let go.  She was standing up to greet perfect strangers, doing tricks for a young boy, carefully studying her doctors' reactions while bring examined.  Her mind was as sharp as always, and her heart was as full as ever.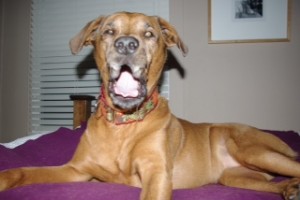 When she was done fighting, it was written in her beautiful caring eyes.  They had lost their luster, and her body no longer had the ability to love, shelter and care for everyone she had taken under her wing.  I held her to the end.  I was with the best support group one could ever ask for, and there wasn't a dry eye in the building.  Even with her last breath she was trying to comfort all of us. As I was told by an amazing vet and friend, "Her soul is far too beautiful for our world any longer."  
---
Kayla,
I am forever grateful for a u-turn that led me to you, my soul mate.  For your small (80 pound) body that would climb on top of me every single time I was sad, and dance with and around me every time we were celebrating, for all the mornings you grunted in disapproval and placed your paws over your eyes when it clearly wasn't your time to get up.  I hold on to the many times you pulled me over, knocked me down, ran excitedly into the vet's office (paws up on the receptionist's desk) and sent items hurling in all directions.  I never really cared about the things you destroyed, the holes you thought you should dig, or the fact that it was quite clear you only listened when you wanted to.  I miss our long car voyages across the country and our short trips around town.  You just loved to ride in the car, resting your head on the arm rest just to be closer to me.  I even miss laughing at how overwhelming all of the medical bills that came with your accident prone, likely to be injured self!  I loved those intense stares with the "you're so lame" look (my sister experienced firsthand) when you were less than amused by the attention you were getting.  You amazed everyone by your ability to clearly understand almost every spoken word.  Thanks for never really knowing you were a dog but giving the beautiful, unconditional love that only the best dogs can give.  My life is truly changed by the amazing people you have led me to…….I would do it all over again, and again, for you Kayla…every single minute…!  You are forever in my heart; and your loving soul and fighting spirit have touched the lives of everyone who had the pleasure of meeting you.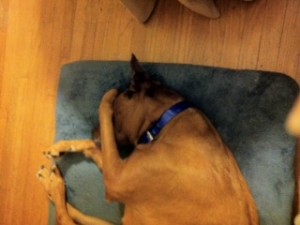 I hope you are running as fast as you can on a beautiful beach jumping through the waves or in a lush green open meadow with rays of sun warming your beautiful red fur and surrounded by all of the same love you shared with the world.  With all my love …..until we meet again, Mom.