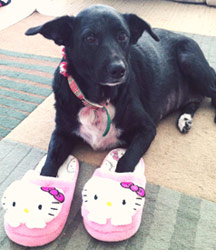 Princess was born on December 23rd, 2004. Although, I'm really not sure her actual birthday this was the one that I gave her simply because I have always wanted my first child to be born on that date, so that became her birthday. Princess's first 5 months of life were not exactly perfect. She was born in a litter of 8 puppies, 4 boys and 4 girls. When I went to the humane society that day in May of 2005 she was one of the last girls left and she immediately stole my heart. Her name at the humane society was "Bonnie" but I changed it really quick. She was my Princess. The home Princess came from was a very abusive home. A neighbor that lived by her owner's house at the time stole the puppies, or I say rescued them, and bought them to the humane society. Princess suffered from anxiety from an early age and always had a "scared" or "sad" look about her. But I promise she smile too. Princess's first 7 years were perfect. She brought so much joy, happiness, laughter, pride, and love into my life. She also was the apple of my parents eye. She was a wonderful protector of the house. No one came on the property without me, my mom, or dad knowing it. Princess saw me through the happiest of times to the lowest of times. She even watched me learn to walk again. She was always there for me, no matter what she never judged me, she never looked down upon me, she was always loyally and honestly loved me for me.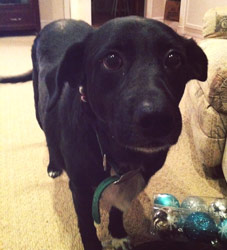 In February of 2012 I noticed she had a lump in her throat. I put her on anti biotics, hoping and praying it was just a simple infection and it would clear up. After a 10 day cycle it had not clear up. I knew deep in my heart what it was but I denied it. In the end of March I noticed that she had developed lumps at the back of her front legs. I knew then that in fact my worse fears had be realized and she did have cancer. I took her to the doctor on March 26th, 2012. The Vet took samples from her lymph nodes but she did go ahead and informed me that more than likely it was lymphoma. I have no words to explain the heartbreak that took over. This was not just my "dog" or my "pet" she was my best friend, my baby girl. Luckily, my mom was there to help me and Princess to the car. I did place her on a steroid to help comfort her. I was now faced with the realization that she was slowing passing away and there wasn't anything I could do about it but pray.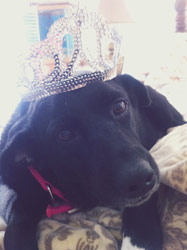 3 weeks to the day of Princess's diagnosis I said good bye to her. April 9th, 2012 was the worse day of my life. Being told that she is suffering, that she is struggling to breathe, that the fluid is gathering in her chest still echo in my head. I told the doctor that I knew it was time to send her to be with God. Princess was cremated in her favorite hello kitty blanket. She fell asleep with me as she had done for 7 years and 4 months. I'm comforted by the fact that she is no longer suffering but some days that doesn't stop the pain and heart break of missing her. I still have all her crowns, collars, blankets, clothes, food, treats, and medicines. I can't seem to be able to part with them. I still keep a water bowl for her. I still smell her. I would do anything to be able to kiss her and hug her one last time. I ask God every night and morning to please give her a kiss for me and to tell her how much I love and miss her. I believe full heartly that Princess was a blessing from God that was sent to me and only me. I'm so thankful to have had her in my life. I know that one day, whenever that day is, she will greet me again just as she always did, with a smile, a kiss, and a nudge with her nose.
Mommy Loves You Princess.