OTCH MACH PACH Sharpmtn's Seventh Gear – "Overdrive" UDX2 OM4 MXS MJB MXP3 MXPB MJP3 MJPB PAX
January 4, 2002 – May 19, 2015
Cancer: Hemangiosarcoma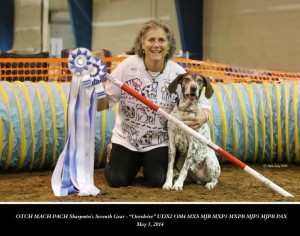 Overdrive's Story ….."Every once in a while a dog enters your life and changes everything !!!"
I will never forget the day I picked out Overdrive as a puppy. I knew in my heart this little boy had something magical, but I had NO idea just how special he would become in my life. When my Nashville friends met him for the first time, they immediately nicknamed him the "Spotted Flash" because he raced around the training building like the spitfire he was!!!
Overdrive was SO much fun to train in Obedience – he was fast, smart, confident and loved to learn new things. I trained him thru Utility before I ever show him in Novice (mainly because he had so much drive) and I knew that keeping him in a heel position was going to be a real challenge. BUT my boy surprised me and hit the ground running when we started showing in Novice (at the age of 4.) We earned (4) High in Trial's and earned several scores of 199.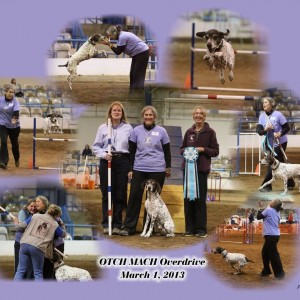 Showing in Open and Utility was a BLAST and we earned our OTCH and MANY "High in Trials" along the way. He was the 12th ever GSP to earn an Obedience Trial Championship.
After he retired from the Obedience ring I knew that he would need something FUN to do ….so at the age of 8.5 we started training in Agility (a sport that neither of us had EVER done before !!! We started our Agility journey at the age of 9 (we showed in Novice A ~ January 2011) and we were having the time of our lives …before I knew it we were earning QQ's. I learned that there had never been a OTCH MACH GSP so I told my trainer that I wanted us to be the 1st and to make history. I was told my MANY MANY Agility people that due to my lack of experience in Agility and Overdrive's age – a MACH was not possible. I was thinking to myself …."If your Dreams don't scare you, they're NOT Big Enough !!!"
So history was made and we earned our MACH on March 1, 2013 . NO folks, this is NOT the end of our Agility journey – I continued running my boy but changed to "Preferred" (lower jump heights) and we continued having so much fun. Much to my surprise we started earning QQ's rather quickly – and YES, we then earned our PACH and PAX – history making AGAIN and still running at almost 12 yrs old !!!
"There will be so many people out there who will tell you that you can't. What you've got to do is turn around and say "WATCH ME !!!"
We did retire from Agility and I had planned for us to start tracking or do nose work. Overdrive lived life to the fullest and was NOT slowing down (truly living up to his name !)
Then suddenly and totally unexpectedly my boy collapsed (with NO warning) and I rushed him to Pet Er. My heart was broken as he was diagnosed with Hemangiosarcoma ……..I let him go that day. That was one of the worse days in my life …I was devastated and paralyzed with grief.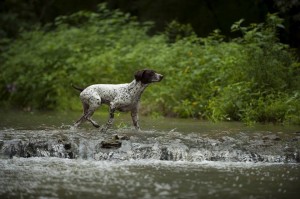 I knew that the only way to help me get thru my pain was to honor Overdrive and raise money (in his name) for Canine Cancer. I partnered with "Chase Away K 9 Cancer" and raised $5600.00 (Donations from all over the country poured in to honor my boy) and I sold lots of items from "Chase Away" at a local Agility Trial.
I miss Overdrive more than words can say but I have learned that life has to go on. I know that I will one day be with him and I'm holding that thought very close to my heart.
Angie Bauman