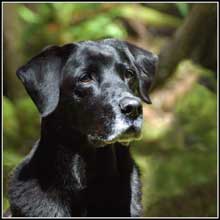 Raven – "Just" a Dog
Raven Gayheart at Fernhaven
February 5, 1994 – August 15, 2007
The air was pristine, lush vegetation lined the trail and we could feel the healing power of the mountains. We heard a scream coming from the sky. High above a raven circled and called to us. My dear Raven – free from pain and calling goodbye. Only a few hours had passed since our final farewell. It was an act of love and compassion.
We chose Raven when she was only a few weeks old – or perhaps she picked us. Her breeders marked her with a stripe of pink nail polish on the top of her head and christened her "Mohawk" but I knew her name was Raven. However it was meant to be, she certainly wasn't pleased with the ride to our home… she howled the whole way.
Puppyhood wasn't exactly eventful – the usual adventures: digging up the sunflowers I had carefully nurtured and then looking at me as if to ask "you wanted to save them?", tormenting patient Cindy our older dog, frolicking in the dandelions, curling up like a cat in our purple cat bed and teaching me about her favorite place to be scratched… right between her front legs. Her cocked head and inquisitive look told us she was always ready for a new escapade. She was an apt pupil and quick learner. She could do many tricks – beg, shake hands, roll over, play dead (after being shot with our finger), and retrieve named toys. Oh – did I forget to tell you she was a retriever? Oh – she was just a dog.
Raven taught me what it is to be passionate about something. For her it was retrieving. In the field she embodied focus and perseverance – great life lessons. By the time she was four years old she had earned the title of Master Hunter given by the American Kennel Club. In the same year she qualified at a national retriever competition – a Master National Retriever. Her natural talent made her a great competitor.
But most of all, Raven helped me seek life. Her gentle presence gave me comfort and a reason to go on when my personal days were dark. Her warm brown eyes inspired me to remember that there was a future. She protected my spirit when it needed protection. She taught me about the very essence of friendship, trust and pure unbridled joy for living. She affirmed my being. Oh – but she was just a dog.
Parting from such a friend is never easy. Raven had lived an exceptional life and had taught me much. She had beaten Mast Cell cancer once before and I hoped for a miracle when she was diagnosed with both Mast Cell and Lymphoma. Our family veterinarian, Dr. Dan Kennedy DVM removed as many tumors as possible – but reprieve was not in the cards. Even though the cancer had spread throughout her body, she gamely kept on being Raven – finding joy each day, carrying the newspaper home from the mailbox, begging for cookies and asking for another retrieve. Knowing my heartbreak and not wanting to leave me, unto her final hours, she protected me from knowing the full extent of her disease.
Yes, Raven was just a dog – but what a dog. Because of Raven I built hopes and dreams for the future, I have incredible memories of the past, and I know what it is to experience the pure joy of the moment. How I miss her intelligent bright eyes, willing spirit and devoted love.
Jean Fowler, Woodinville, WA