Autumn Heartsong at Fernhaven – Rena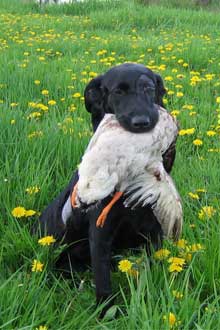 December 4, 2002 – July 26, 2005
"Rena has a bluey." Rena, our 2 ½ year old Labrador Retriever, was in California training for retiever competitions and our hopes were high for a rewarding year in the field. That phone call, at 6:30 AM from our trainer, changed everything and we began a rollercoaster ride that lasted four months. A "bluey" is the physical manifestation of severe glaucoma in a dog's eye. Our immediate goal was to reduce the pressure so Rena saw Dr. Cynthia Cook, DVM, PhD and Dr. Carol Szymanski DVM , ophthalmologists in San Mateo, California while I began the drive from Seattle get her and bring her home.
The next four weeks were spent attempting to determine why she had glaucoma. High internal pressure in the eye will cause blindness and so we did everything possible to keep it under control. Our family veterinarian, Dr. Dan Kennedy, referred us to a local specialiast in ophthalmology, Victoria Jones, DVM, MS, DACVO. Dr. Vicki consulted with specialists here and across the nation to try to determine what was causing the glaucoma. Rena's retina was abnormal but the cause was a mystery. Finally, unable to both keep the pressure within acceptable limits and to determine its cause, we made the difficult decision to have Rena's eye removed.
Dr, Vicki did a fantastic job with the surgery and with a good friend's observation that "If you treat her like a cripple, she will be a cripple," we continued on with training. Rena's eye was sent to a special pathologist in Wisconsin who delivered the devastating news that she had amelanotic melanoma. This is an extremely rare and aggressive form of melanoma (cancer) – it is amelanotic because the cells are dividing so rapidly that they do not have time to develop the characteristic dark pigment.
However, we were still hopeful. Consulting with Dr. Kimberly P. Freeman DVM, Diplomate ACVIM, an onchology specialist in Oregon, gave us some hope. It was possible that we had removed her eye before the melanoma had spread. If it had spread, there was very little we could do.
Rena went on as if nothing had changed in her life She was playful, bold and lived to retrieve. She filled our lives with joy. We ran her in her first AKC Master hunting test at Sauvie Island, OR on Memorial Day. While she didn't complete the test (breaking on the last bird down in the third series saying "I can definitely get that bird, Mom!") she was full of fire and desire. We were so proud.
In July the melanoma reappeared with a vengance. It had spread to several sites in Rena's body and we lovingly helped her cross the rainbow bridge at the end of the month. Our Heartsong had been stilled. Rena's death inspired me to join the ACVIM volunteer cadre. Perhaps someday other dogs with melanoma will not have such a bleak future.
Jean Fowler, Woodinville, WA