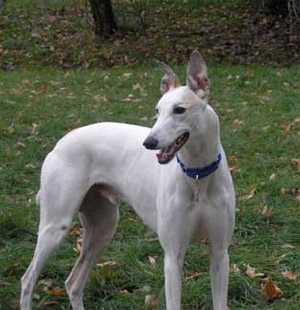 I did not want to be here again. But there's a reason we're told that greyhounds have a high incidence of osteosarcoma. Because it's true.
This time, it's Dingo. He's my husband's (George) dog. We got him for a very simple reason: Though he'll never admit to being a "dog person," one day he decided that he needed his own dog. (We had 2 already, but both were very much mine. I adopted Katie, who eventually passed in 2009, and Ellie, who passed in 2010, before George came into the picture.) We saw him online and George instantly fell in love with the name ("Driven by Dingo"). Honestly, I think if he went by something else, we probably wouldn't have brought him home. Apparently, transportation-related names trumped personality in George's eyes. Good thing Dingo is such a sweetie!
Then Ellie got osteo… and now it's Dingo's turn. Crap.
This time, it's a bit different. The tumor was on his right front ulna, and they were able to do "limb-sparing" surgery. So he's not a tripod, which was important to us. Obviously, we know how well dogs do as tripods. Ellie had 3 legs for almost 4 years, and remained her happy, silly, crazy self. But Dingo is large. And Dingo has some arthritis in his neck. I think it would be hard for Dingo to lose a front leg. Hopefully the tumor won't come back and we won't have to think about it.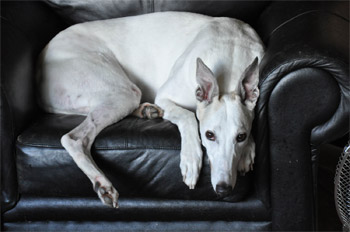 After his ulnectomy, he went through 5 rounds of chemo. We're all grateful that recent research showed the same effectiveness in 3 fewer treatments. Especially once we noticed that he wasn't sailing through chemotherapy quite like Ellie had. He experienced some hair loss, some appetite loss, and a few other minor side effects. Nothing serious, and nothing we couldn't prepare for. That didn't make it any easier to watch.
 Today, we happily report that he's fully healed from his surgery. And he's on a "maintenance" plan with our vet: Monthly check-ups with acupuncture, to keep his arthritis in check and make sure he's still as healthy as he feels. He remains a jovial fellow. This, we know, is the most important thing of all. And while we don't let him romp outdoors with his best friend, Vishna (our Whippet), he's still having fun. A weakened right leg means no rough-housing—he and Vi have been known to chase each other and pounce all over the yard—but it doesn't mean no to playtime. Tug remains a favorite living room activity, and he always lets the lady win (such a gentleman!). As a greyhound, he does need to stretch his legs sometimes; so we let him lap our backyard almost every day.
A friend made us a collar that he wears proudly to announce, "I am a survivor." And we're so proud of him. He's got hope, and he's got love. We're crossing fingers that Ellie left some luck for him so we can mark his 10th birthday, 400 days, and at least 4 more years.
---
Very Sad update Dingo lost his battle with Cancer just prior to the October 2012 Chase Away 5K, our heart goes out to your parents Debbie & George and we want to thank them for all of their support and making the Chase Away 5K the success that it is.  You will not be forgotten Dingo and we will all continue to fight in your memory…….cera