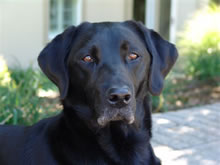 We lost our precious girl Duke (Falcons Nest Grand Duke) at the young age of 6 years old. She was a black female Labrador Retriever who lost her life to cancer on March 5, 2009. She was diagnosed with Osteosarcoma in August of 2008 and her right front leg and shoulder were amputated. She then went thru 5 chemo treatments ever 21 days. In February 2009 she began running a temperature and her blood work was really off.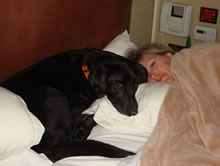 Our worse fears confirmed that the cancer had returned in her lungs. She had at least 3 tumors and maybe more. After just 4 weeks she couldn't fight it any longer. We couldn't let our sweet girl suffer any more and it was time for her to go. We will miss Duke terribly but find comfort in knowing she will no longer suffer from this horrible disease. She will never be forgotten and we are so thankful for the wonderful 6 years we had with her. She was truly the "best" dog ever.
We would like to thank the Falconites for their generous support of Chase Away K9 Cancer and we are honored to share Duke's story and we know that her love lives on.
Angie & Mike Falconite