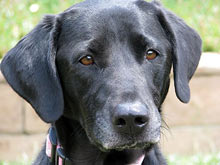 The year was 2006. Summer was fast approaching. I had lost my first dog, my beloved boy Kadin, to prostate cancer only months before. I was still trying to pick up the shattered pieces of my heart when one of my best friends called to asked me if I wanted to see a dog.
"A dog," I said. The voices inside my head were screaming, no, no, you're not ready.
"What kind of dog?" I asked.
"A lab," my friend said. "She needs a home."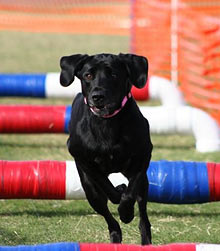 We'd arranged to see her, and I couldn't bring myself to tell anyone, not even my family. Days later, I nervously walked up to the house of the woman who was fostering her. But once I saw her, it was all over. She had found me; she found a new home. I called my husband from the front lawn and asked, "How would you feel if I brought a dog home this weekend?'
Tessa was 2-years-old and a little thing, just barely 20-inches at the withers, but she was a whopping 70 pounds. We got her weight down to around 50 pounds, and suddenly we found a jumper. We got her in a pool and her DockDogs career was born. She was a natural. We took her to events in California and Oregon and it seemed she got a personal best every time she jumped.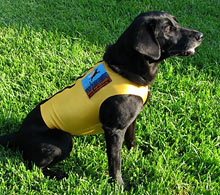 Fast forward two years. One day before the DockDogs Las Vegas Shot Show, we were doing some jumping training in the backyard, and she accidentally hit her head and jaw. I opened her mouth and found she was bleeding from a bump right behind one of her teeth on the left side of her mouth. The vet said to keep an eye on it.
At the Shot Show, Tessa had the best performance she'd ever had. She finished first in her division in every single wave, and she even finished first in Speed Retrieve! We celebrated her birthday the day after the event, and after she finished her birthday cookie, I decided to check her mouth again.
The bump had turned red, angry and swollen.
She had surgery to remove the lump five days later. And then the results came in on Valentine's Day, of all days. It was squamous cell carcinoma.
She immediately began radiation. The treatments were every day, Monday through Friday, for four weeks. It seemed to drag on forever. She lost weight; she developed a urinary tract infection; some days she was tired. Because the tumor was in her mouth, the radiation caused the fur on her chin to fall off, and the skin was blistering. The vet techs were concerned about her anxiety level because she was jumping all over the place… until I told them she was a DockDog and that's just what she does.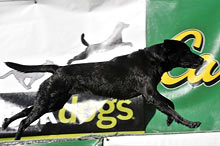 Tessa's oncologist said that because squamous cell carcinoma doesn't metastasize, chemotherapy wasn't necessary. The survivability rate is pretty good, with there being a 60% chance the cancer will not return. That's a better chance than I had with Kadin.
She was placed on two medications to boost her immune system: Eicosa-Derm, which is a highly-concentrated, high-powered fish oil; and ImmunoSupport, which is a immune system booster made of shiitake mushrooms. Every two months, Tessa went in for a re-check, which included a physical exam, chest x-rays and blood and urine draws.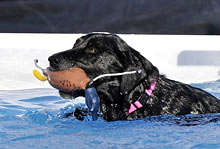 She returned to the pool two weeks after radiation and that amazing little girl jumped a personal best! She didn't lose a step. And, the skin on her chin finally healed, and the fur has grown back… but it's white! I can honestly say I've added my own share of white hairs throughout this ordeal, too.
Reaching the one year mark from the time of diagnosis was a big milestone. Tessa's oncologist says she looks fantastic, and believes she will be fine in the long run. Now she goes in every three months, and when she hits the two year mark, her re-checks will be every six months.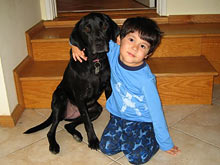 We don't know how Tessa contracted squamous cell carcinoma, but we do know it's survivable. In fact, it's one of the more common, but thankfully, less aggressive cancers. But the credit goes to my little girl. Her determination is like none I've ever seen. And to think at the Shot Show, she was jumping while she was sick with cancer. But she never showed it. She's pretty amazing!
—Linda Hettich