My name is Kelsy and I want to share a survivor story with you.  I want to share our message of early detection because I think that what has saved my dog's life.
Travis (my husband) and I adopted two worm-filled flea ridden mutts from a high kill shelter near Sydney, Australia in 2011.  We named the male Twigs and the female Trout and took them on all sorts of adventures across the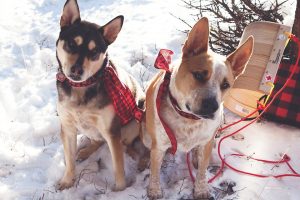 sunburned country- we hiked, we canoed, we even learned to dogsled.  In 2014 my work visa came to an end and we had to move back to Canada.  We packed Twigs and Trout up and crossed the Pacific back to the mountains in Alberta.  It was a freezing February day and I noticed a slightly pink tinge when Trout peed in the snow.  We went through a whirlwind of UTI medications and antibiotics, but the blood in her pee wouldn't go away.  She had no real other visible symptoms as far as we could tell- in hindsight I think there were a few cues that we had been missing (more regular upset tummies, a drop in energy level, and so forth).  The vet encouraged us to continue with more ultrasounds and tests, all of which found nothing unusual.  We were convinced it was something structural and that she'd been bleeding a bit all along and we just hadn't seen it in the red Aussie dirt.  She was only 3 years old and not really in the age class for the big 'C'.
I work in wildfire and had been deployed to a large mountain fire in a neighboring district when I got the news-… Travis had taken Trout for upper urinary tract ultrasound and it wasn't good news.  He had somehow called into the command post and across the scratchy line he said, 'it's cancer'.  I couldn't believe it. I had to step outside into the forest to take a moment. Renal adenocarcinoma.  The best option for treatment was surgery, but if the cancer had spread it was likely that euthanasia would be the most humane option.  I had another 10 days in my shift, so Travis brought the dogs down to the fire to see me.  We camped a night together, trying to be 'normal' and then Travis drove her to the city for the surgery.  My heart was breaking.
Well I said it was a survival story so I'm happy to report that that day was over 2 years ago now… Trout rebounded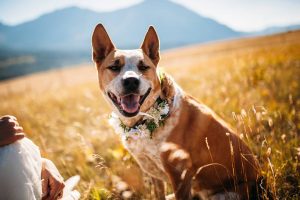 from the surgery quickly and they said she'd get another 6-18 months if it was successful.  So far so good!  We've done a # of bucket list items, including swimming in the other side of the Pacific Ocean, watching the salmon spawn, standing on a glacier, skijoring the Yukon Quest trail and heaps more including being a bridesmaid in our wedding.
So far she has a clean bill of health and we're living on the luck of the 1 in 4 chance they gave us  that the surgery was curative.  We caught it early, so it hadn't had much of a chance to metabolize around her body. If we had waited with the diagnostics or misread the symptoms any longer I'm not sure where we would have ended up.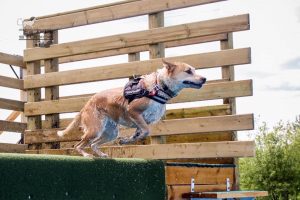 So,  we'd like to help pass this message that you've been sharing.  It's so important!!  We heard of your group through X-treme Airdogs which has a small club here in Edson, Alberta.  Trout is a big jumper (PB is about 14′ which is good enough for me!) and we are beginning to attend more competitions.
______________________________________
I so very much love to receive survivor stories, thank you so much for sharing Trout's story. Wishing you many more years of joy with your best 4 legged friends.  Thank you for joining us to help spread k9 cancer awareness in our homeland to the north Canada !!!