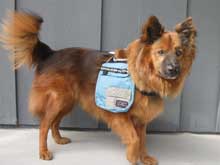 I am a dog trainer so of course "dog lover" is an understatement! On October 24th 2008 I was on my way to see a client when I spotted a dog running right through the middle of a busy intersection…as always when I see a stray I was on the chase! I managed to catch up to him and after a fierce and somewhat violent struggle – completely based on fear for his life – he just sat down and started to wag his tail and it hasn't stopped wagging since!
I tried to find his owner to no avail…he was starving, dirty is an understatement and the mattes took days to cut out of his long fur! But he fit right in with my pack and his sweet nature was hard to resist – so he joined the family and he became 'Chewy'! He did his obedience training, and his laid back nature made him perfect for Therapy work, and he helps me with my CGC testing.
This past summer however – I couldn't help but think something was wrong. Then in July, when the dogs came in from one last potty break – I made a horrible discovery!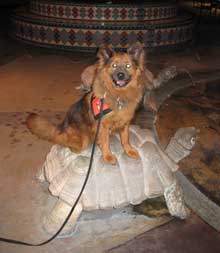 Chewy always comes in last and sits in the doorway for a hug and a kiss…this is routine…everyday it's the same thing for us…but this time, after I wrapped my hands around his face and under his chin and kissed his muzzle it was different…there was a lump…a teeny tiny pea sized lump I had never noticed before. Instinctively I ran my finger along his gum line – there was a big lump – NOOOOOOOOOOOOOO…it was dark so I put on a head lamp and opened his mouth…and there it was staring me in the face!!!
I took him to my vet the next day – still refusing to say the C word I told my vet there was an abscess where his tooth was removed…come on – I was trying to be optimistic! We both new better and so he aspirated it. He had Squamous cell carcinoma, and no one was very optimistic…no one could give me any definite answers…that was the scariest part of all this…the experts had no expert advice…just options.
Next stop surgery. After a phone call to my other vet – a very well renowned, very experienced vet, he too gave me the brutal truth that his prognosis wasn't good but was willing to do everything he could for me! We went to see him the next day, July 29th, and upon seeing the size of the growth, knowing how fast it had grown, and upon experiencing how lovely Chewy is he offered to do the surgery that day!!! He was amazed at how sweet Chewy was and couldn't believe how he just sat there while he poked his finger in his mouth and around the tumor and his tongue! He said most dogs in his condition wouldn't even let him within 5 feet yet alone allow him to poke the tumor! That's my Chewbear! All the while his tail was a waggin'!!!
Without surgery he gave him a week at the most to live…sorry but that's just not an option!!! He held my hand as I cried and said he would do everything he could! I believed him!!! I gave Chewy hugs and kisses and went home and waited. They removed his lower jaw, just past the first pre-molar and pushed the limits of what the textbooks say and went almost an inch past the bend in his jaw. He was already missing his lower canine on that side so now he has one tooth on that side of his mouth!
The vet called me that night to say Chewy once again amazed him at how well he did, and at how fast he recovered and that he was really happy with how the surgery went. Believe it or not Chewy ate that same night – after having half his jaw removed! I was told I could visit him the next day and to my surprise I brought him home with me! Besides the fact he was still a little groggy from the morphine you wouldn't have known anything was ever wrong! He ate dinner that night, and tried to gnaw on a rawhide the next day! My vet had the lab do three separate tests on the tumor to make sure he got clean margins…and each time was pleasantly surprised – clean margins!! Woohoo!
About two months later – another lump…I found another pea sized lump, this time in his thyroid. The vet was positive it was nothing, but neither of us wanted to risk it so he removed it that day, and upon doing a thorough search of his mouth was positive he found what likely was going to come back positive as a tumor right where the original suture site from his first surgery was. My heart sank, but then I thought that little pea sized lump was my guide to the real problem…because it was so far back on his cheek we wouldn't have ever found it, and now it's gone! Whew… The funny part is that removing the tiny lump in his thyroid physically looked way worse than having his jaw removed!
It's been just over a month since the second surgery – we are due for one final check up but as of now my lucky little Chewy is healthy as an ox…and that second mass…came back NEGATIVE!!!
Now my goal for Chewy is to start his career as a Therapy dog for cancer patients! Because now they can share their stories!
My heart goes out to those of you, who didn't get a happy ending to your story, but together we are forming a united front and we can support one another, lift someone's spirits or be a shoulder to cry on when your fur-shoulder is gone…and together we can find a cure for this dreaded disease!
I have always believed things happen for a reason. I believe Chewy found me because I was the only one that would be able to help him. I have always had good instincts, especially when it comes to my dogs…and I encourage you all to listen to that little voice…it's there talking to your for reason! Find a vet your trust but don't be afraid to get a second or even a third opinion…they can't speak…we are their voice…so we have to be sure we make the right decision. There is no doubt that if I hadn't taken Chewy to the second vet – he would still be fighting or maybe even would have lost that battle!
For now he's just "HAPPY HEALTHY CHEWY"!