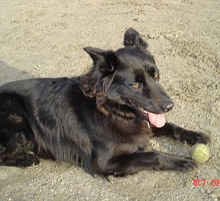 Our best friend Chase ("Puppy") passed on to the Rainbow Bridge on July 27, 2009 at 4:30 p.m. It was very peaceful and we were at his long time vet at Hollywood Hills Animal Hospital.
Chase struggled with polyarthorpy (an immune joint disease) and megasophogus (which plagued him with pneumonia) for the last year. He was diagnosed last week with Lymphoma and went through his first chemo on Friday. We had to lower his prednisone in order for him to breath, unfortunately lowering the pred made him unable to walk and by Monday he could barely hobble around – we couldn't stand to watch him in anymore pain and made the decision that he had lived a good life, albeit short, at only 5 years old – he had a great life…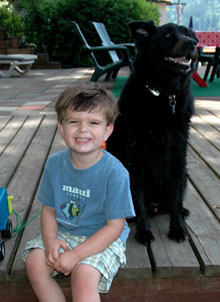 I am pretty sure Chase thought he was a person. He was a dog that needed a job at all times whether it was guarding the bird feeder from squirrels (and sometimes birds), he was on it…he would retrieve our newspaper and, on a regular basis, our neighbor's newspaper. Whenever the dinger on the rice cooker went off he would rush to the back door to clear the back yard of the strange intruder. He constantly monitored the television for any strange cartoons that our son shouldn't be watching. There wasn't a tennis ball in sight that didn't go untouched, and he was always on guard with his family. For those days that he didn't have a job, his job was to be my constant shadow.
Chase we miss you so much and hope that you are running free without pain and chasing after every squirrel that comes your way.
Kara, Kevin and Kyle Weinand
Chase shares his name with the namesake for Chase Away K9 Cancer and he too was lost to cancer at such a young age. Our hearts go out to his family but we know that his love will live on.