In Memory of Clovis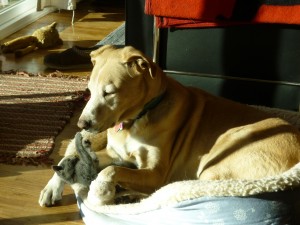 February 14, 2007 – January 15, 2015
Clovis was a very special Lab cross who we rescued after she and her littermates were found in a house that had been destroyed by a tornado in Clovis, New Mexico. She was one of the sweetest dogs around, who loved her people, and her canine and feline friends.
At first glance, one would think that she was a lazy dog because she loved her naps. But she was always game for any adventure, from going on walks and runs, to hiking and swimming. In 2009 she went on a 120 mile, 11-day backpacking trip on the Northville-Placid Trail in the Adirondacks of New York. Here's the link to a film about it: https://www.youtube.com/watch?v=EKVgS7gKSd0
She had many favorite things, including her turtle, playing Frisbee, going on walks, her big sister Riley, and much to our surprise, foster kittens. We started fostering kittens and puppies for the City of Albuquerque several years ago, and while Clovis would be curious about the puppies, she loved the foster kittens. She was so gentle with them, and let them play both with and on her.
Our oldest dog Riley died in August 2014 at the age of 14. We thought Clovis was depressed by Riley's death, so we took her to our vet, Dr. Bouchet at Aztec Animal Clinic in Albuquerque, to see if there was anything we could do to lift her spirits. Dr. Bouchet ran several tests to make sure that nothing else was wrong, and the tests came back indicating that there was. It was eventually determined that Clovis' spleen was very enlarged, and would need to be removed. Upon removal, it was determined that Clovis had a tumor on her spleen that had metastasized to her liver, and the pathology indicated that she had splenic stromal sarcoma, which, after having experienced it, we would say is probably about the worst cancer a dog can get. After she healed from her surgery, her oncologist, Dr. Schrempp with VCA Referral Center in Albuquerque, started her on doxorubicin, but the tumors in her liver continued to grow, and the cancer spread to her omentum. We then tried Palladia, but the tumors were still increasing in size. Approximately three months after her surgery and diagnosis, Clovis died peacefully, finally free of the burden of her cancer.
Clovis died too young, and we miss her every day. We had thought we would have so many years more with her. She didn't even make it to her eighth birthday. We learned about Chase Away K9 Cancer from a brochure in Dr. Schrempp's office, and we knew that Clovis would thoroughly approve of us donating to the cause so that other dogs will have a chance at a better prognosis than hers. We also got our two other dogs, Easter and Clayton, Chase Away K9 Cancer dog collars, so that we can spread the word.