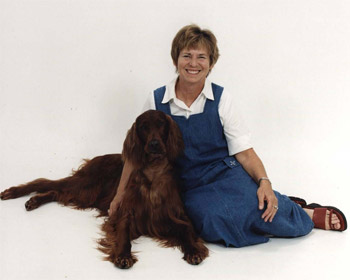 On April 22, 2011, I lost my beloved Irish Setter to Lymphoblastic Lymphoma. His name was, coincidentally, "Chase", although he was officially listed on the AKC rolls as CH Ohkom's Angel In Disguise, CD, RN, CGC, TDIA. All those initials meant that we spent a lot of time together, and we enjoyed every minute of it. Chase had a CH in front of his name because he was an AKC Conformation Champion. The CD and RN after his name stand for Companion Dog and Rally Novice (both obedience titles). The CGC means he was a Canine Good Citizen, and the TDIA ~~ a very special title indeed….it meant that he had made over 100 documented therapy dogs visits. Together we volunteered at Woodhaven Personal Care Home and Shadyside Hospital here in Pittsburgh. Chase had a knack for making people smile, and was a wonderful ambassador for the Irish Setter breed. 
Although I've lived with many beloved Irish Setters in my life for over 35 years, Chase was, in truth, my heart dog. the one dog in my life that held my heart in his paw. How I loved him.   When I felt those enlarged lymph nodes shortly before his 12th birthday, my heart stopped.  A visit to our vet the next day confirmed our worse fears.  We had not much time left.  I decided to treasure those last few weeks, and prepared a 'bucket list' for Chase and I to live out….trips to his very favorite walking trails, a stop at the local Dairy Queen for an Ice Cream cone, a new toy that talked…everything he loved, including time spent with me, who he loved above everyone else.
Just a month after his diagnosis, our time together on this earth ended.  His loss was beyond devastating. I had to overcome the sadness I was feeling, and celebrate the special dog he was with something positive. Determined to honor him in some way, I got involved with Chase Away, and decided to do a fund raiser here in Pittsburgh. So, on the one year anniversary of his passing, we held the 1st Annual Chase Away k9 Cancer 5k Walk Pittsburgh 2012.  On that one day we raised over $24,000.00 for Chase Away.  What a wonderful tribute to my beloved dog….and what hope for a future without another family having to lose a friend and companion to this awful disease.  
Till I see you again, "Chase"….
–Mary Hummert