The little dog that could!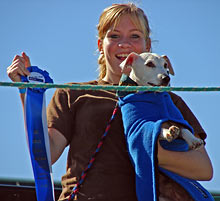 Gumpy, as he was lovingly known, was first fostered by the McDougall family in June 2007, and they knew the moment they got him he was a special dog. Although Gumpy had his issues they knew that with love and hard work he would be great, it was just finding the right outlet for him to show who he really was and give him the extra confidence and trust he needed with people. In August of 2007 they decided that they would adopt him and give him his forever home; this was his last chance and they decided that he was well worth it! A lot of other people would have given up on this little dog but the McDougall's saw more: they saw a dog that needed a second chance to discover what life could be with a family that loved and respected him.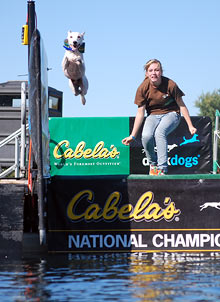 They quickly discovered that he was happiest when he was around water. It was as many would call an addiction, so they decided to enter him into dock diving events where he could exert this abundance of energy that he had They soon found that this wasn't just an ordinary dog jumping into the water. The drive and determination that he had lead him to compete with some of the top dogs in the world, diving more than 20 feet. His love for Sarah and the ability to fly brought him to the forefront. Many said that he was a big dog trapped in a little dog's body! But just when they found his love for something he was struck suddenly with lymphoma but of course this didn't stop him. While undergoing treatment he remained happy and never slowed down, and he continued to have the same determination and drive that he always had. This earned him the name of "Feisty Forrest." He often competed in the JRT Fun days and would run as long as you would let him. His favorite was to go to ground and super earth!
Sarah and Gumpy were inseparable, often found either at events competing or at the Canal just jumping and swimming. It took allot of work on Sarah's part to get this dog to trust her and she spent many hours just practicing tricks with him. Because of the life that he had before he was adopted he developed a fear of people and during many competitions Sarah would be found walking with him and assuring him that he was safe. When people would want to come up and pet him she would hold him close.
The love they shared is something not often seen and is something to be admired. Although his fight with lymphoma had him going through many rounds of chemo and he relapsed three times he remained happy. He earned many titles doing what he loved to do even though he was sick. He won 6 National Diving Championships and even travelled as far as Arizona to do so and was ranked Top Lap dog World Wide with three organizations.
Even though this little dog was so well known and earned so many titles what Sarah loved most about her dog was being just able to spend some quality time with him on and off the dock and in their down time they would often be found just cuddling together. Sarah and Gumpy were meant to be together.
In August of 2008 they were given the chance to show the world what this little dog could do by receiving an invitation to appear on the David Letterman show. He jumped 23'6″ and showed the world what a little rescue dog with cancer was capable of. He was also showcased as a feature clip on CHCH a local TV station showing again his amazing drive and determination.
After the 2008 DockDogs season was completed Sarah and Gumpy were nominated and won DockDogs most inspiring team. This was quite something for a young girl of only 14 and her dog that wouldn't have had the opportunities he did without having the second chance this family offered him.
Right to the end Gumpy showed his determination and drive but unfortunately his fight with this terrible disease was what beat him. Although he has gone to the Rainbow Bridge he will never be forgotten and will live on in the hearts of those he touched forever.
There is a very special message here that we can all learn from, something Sarah and Gumpy have taught us, always fight through your fears, live in the moment and love like there is no tomorrow…
Gumpy, like all dogs, lived in the moment and if it wasn't for Sarah and the McDougalls this dog would have had fewer moments.
Rest in Peace Gumpy and Jump to your hearts content in that big pool in the sky!
Feel no fear as there is only love where you are now.