Well it's almost been a year that our beloved George has been gone.  We miss him every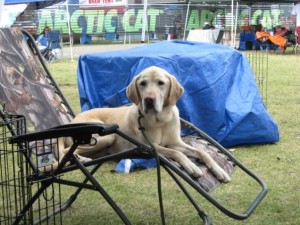 day.  Thinking back on all the great times with him and all the memories.  In some ways I feel cheated.  Here was this great friend so loyal so kind and his life was cut too short.  I do realize that we had more great memories in those 8 years  than most people do in a lifetime.  So where to begin?
It was a Wednesday night in late July of 2004.  My now wife Shannon found an ad in a local paper for yellow labrador puppies.  We both wanted a dog and she wanted a lab and I wanted a golden retriever.  We compromised on a yellow lab.  So here we were 30 minutes from home and the seller's were late.  So we stopped at a local Fleet Farm and started getting puppy stuff….crate, leash, collar, toys and some puppy food.  So somewhere around 9pm the sellers/owners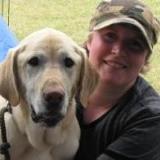 showed up.  There was only 1 pup left.  We were kinda leary to this but he seemed fine.  Not a runt, very social and he was following his dad, Jake, around the yard.  We called "puppy" over and he past me and ran right into Shannon's arms.  We'll take him!
So on the way home we were throwing names around like crazy. Shannon still claims she named him but I remember it like it was yesterday.  We were on I-43 exiting on county V going north to our home in Port Washington and I said how about "George"?  We both paused and she agreed.  Here it is our 1st night.  George is in his kennel at the end of our bed whimpering.  10 minutes later he's in bed with us and never slept anywhere else.
George was such a happy puppy.  We really didn't know much looking back.  He really was our 1st dog.  He trained very easily and seemed eager to learn.  I rememeber when he was 7 months just thinking we got lucky, we had the perfect dog.  Trained to stay in the yard, house trained by 12 weeks old, trained to walk on and off leash.  Just a great dog to be around.  But the best thing was he was part of us.  He was like our son.  We took him everywhere and he loved it.  On August 27th 2005 Shannon and I got married.  On the 28th we drove up north to a beautiful cabin in the woods….George came with!  To this day we still talk about how funny it seemed to people that we took our dog on our honeymoon.  We loved him and he was part of us.
So here was this fun loving well trained yellow labrador named George but he needed something more.  Some days we'd leave him with my dad at his house on the Milwaukee river.  Well something happened.  George always loved swimming but he found something even better about it.  He could jump in off the dock!  So it began.
We started taking George to different docks so he could jump.  He loved it and people loved watching him.  In all honesty he really wasn't that good at it, but he loved it.   Here we were married with a dog.  We started talking about taking trips, having kids and trying new things.  Shannon was very intent on taking George to dock jumping competitions.  I agreed we'll look into it.  So here it was March of 2006 and I find a website called dockdogs.  I immediately join the forum and find the then president Rob Nygren of the Wisconsin club.  We talked that night.  To our surprise there was a jump in Green Bay in April.  
Our 1st dockdog event.  April 2006 at the WBAY pet expo in Green Bay Wisconsin.  We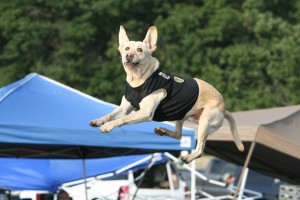 only entered George in 1 event as we had no idea what he would do.  He practiced a couple times and all of a sudden we owned a different dog.  He was unruley, jumping and barking like a crazy dog that had been locked up his whole life.  His 1st registered jump was 13'4″.  Nothing special but we were happy with it.  He was new at this but more importantly he LOVED IT.
We ended up finding a motel that night so George could jump on Sunday too.  We told him if he jumped over 15′ we'd give him our leftover steak from the night before.  His last jump Sunday was 16′ 4″!!!  George ate well that afternoon.  We didn't make a final, or win anything but we knew he loved to jump and we met some great people.  So we figured we'll try this again for sure.
So here it was our 1st National event weekend.  Our 4th event.  George was improving but I wanted to get him over that elusive 20′ mark.  I knew in my heart I had seen him do this many times at home but he just didn't seem to have it in him on Saturday.  I was frustrated and we stayed for about an hour after the event Saturday night to work with him.  I remember very well 3 very well known dockdoggers telling me I was wrong.  I was over working him, "burning him out"  and he'd be to tired on Sunday. Guess what? George proved them wrong.  So here I was with George late on Sunday afternoon taking 9th place overall in one of the biggest events in the midwest!  We were so proud and happy.  It was a great feeling to have him do so well.  All the training paid off.
So from then on, George always made the finals.  He was becoming very well known.  It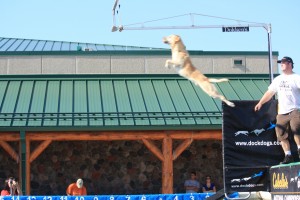 was September of 2006 he finally won one.  The 1st ever "lambeau leap"  It was a cold weekend.  The event was a Friday and Saturday event raining on and off all day Saturday.  I remember that was our 1st cookout event too.  Shannon and I bought a bunch of burger and brats for fellow dockdoggers.  We always passed around food at events and we never had much so we figured it was the least we could do.  Well people started handing us cash.  I kept saying "no" and then we thought what the heck lets donate it to K9 cancer.  So we did.  That year it wasn't much maybe $100 or so but we felt good about it.  So George was in the finals and made the final 4.  We had 2 jumps and his last one was good at 22'2″.  It was raining pretty hard and it was 45 degrees out.  The last dog was Deke ownd by Pete Sunderlage.  We edged him out and George took home a 1st place trophy and $150 dollars.  We were thrilled he ended the 2006 season with his 1st win.
2007 George got sponsored by Mills Fleet Farm and Nutro dog food.  We were amazed.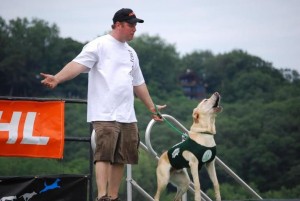 They paid for the "lambeau leap" event George had won a few months earlier and we met a lot of great people at that event.  I made a call a few months after the event, sent Mills a resume and here we were.  George had another great year and started doing well in a newer competition called extreme vertical.  The dogs jump for height in this event instead of distance.  We were in Dubuque Ia in June and George hit a personal best of 6'10".  George earned the name of "Jumpin' George" in 2007 because of his ability and the way he waited his turn in line…frantically Jumping up and down while barking at the dock!  His last 5 events of the season George placed either 1st or 2nd at all of them in Big Air and he won Big Air and E.V. at Rockford's "on the waterfront" festival…possibly the first dog to due so at a National event.  He also won the "lambeau Leap" for a second year in a row!  We also raised over $500 for K9 cancer research.
We started the 2008 Season with a new sponsor.  Fromm dog food.  Here we were in February in Rosemont Illinois.  George was doing well and seemed to get better as the day went on into Sunday PM.  He WON!  What a great way to start out with a new sponsor.  That March we made a trek to Lousiana for a Worlds Championship qualifier event.  George ended up with the invite for Big Air and got another invite for Extreme Vertical as he was the 9th ranked dog in the world for E.V.  It was our 1st World Championship invite and not our last.  George didn't win anything at Worlds but he had a good showing and it was great to be amongst the best dogs in the World.  In 2008 dockdogs started a new disipline called speed retreive.  The dog was released 20′ back on the dock and they had to get a duck at the end of the pool.  It was electronically timed.  George didn't start this until late in the season and he excelled at it.  He holds the 1st World Record for Iron dog in 2008.  Also that fall George took 2nd place at our clubs Lambeau leap event and won Extreme Vertical.  George with the help from friends and family helped raise over $500 again for Chase away k9 cancer.  We were so lucky to have such a great dog and we were having such a great time with him and Dozer.
In 2009 George got another Worlds invite.  A week before the event George suffered a bad cut training on a friends dock.  In was in his left rear paw.  He had a few stiches and he still wanted to jump, and jump he did.  He had a great event considering his injury and ended up 9th in Iron dog and had a great week all around.  After that event I handed the leash over to my wife Shannon.  It was her turn.  This whole deal was her idea afterall and I have failed to mention by this time we had another dog named Dozer.  So I would soley jump Dozer and she would take George.  What a great time we had competing against each other.  Unfortunately for Do' and I George and Shannon always bested us!  We came close a few times but never made it happen until a couple year later.
So by this time George had more sponsors.  He had a total of five.  George was starting to slow up a little.  We would do around 15 events a year and practice 3 to 5 times a week.  So Dozer got more and more time in but George still had the upper hand. I remember I decided to jump him at a club event near our home that summer and he was having a bad weekend.  Shannon and I talked about George aging and maybe he just didn't love it like he used too.  Well the heck with that according to him.  He ended up jumping huge about 5 minutes after our talk and winning some money to go home with!   We did start cutting back on events with our dogs…still doing around 8 or so a year but it was expensive and we knew George was getting older.
July 1st 2012 we had our 1st child.  A baby boy named Collin.  I remember coming home with Collin and George and Dozer meeting him for the first time.  Thankfully we have a video of it.  Dozer sniffed him and pretty much walked away.  George's came over to him cautiously with his tail was flying back and forth and he knew this was his new brother.  I remember how Collin would cry sometimes and we couldn't do anything to help.  We'd lay him with George and he'd fall asleep right away.  George always had that calming soothing effect with people.  Luckily we took plenty of photos.  Not in a million years would we have guessed that George wouldn't make it to Collin's 1st birthday.
George at this time is 8 years old.  Since the fall of 2011 George was getting weird skin infections.  At 1st we thought it was from jumping in dirty water and antibiotics were prescribed for a few weeks and he cleared up….but it would go away and come back a few weeks later.  Vet appointment after vet appointment, sending blood work to California.  Trying steroids, skin creams, and various anitbiotics.  It just wouldn't go away for good.  So in September of 2012 we take George to a skin specialist named Dr. Mckeever.  $700 dollars later we were told he had allergies.  He had over 50 injections and they figured it out.  He was one of the best patients they ever had according to the vet and his assistant.  George was always good with vets and wasn't bothered by much.  The allergie serums were expensive but we didn't care, anything to make our George better.  A few weeks later it was like George was 5 again!  It seemed worth every penney.
So this brings us to April of 2013.  George's skin was getting worse and worse.  We were doing shots every 20 and moved them to once a week.  We got him on steroids.  Nothing was helping.  We decided maybe it was his food.  We never once had an issue with Fromm but it had peas in it and he's allergic to alfalfa, which is very closely related to peas.  It was a Friday morning.  George got his 1st helping of raw food.  He ate kinda slow but seemed ok with it.  Seemed kinda odd as he usually ate extremely fast.  So I come home from work that night and Shannon tells me he won't eat!  Really?  So I tried normal dog food and raw, nope.  So I figured he hated it and got him Mcdonalds.  He ate it.  Saturday morning I get up and feed both dogs there usual Fromm.  George was a little thin to us but he seemed healthy other than his skin.  Thursday he was playing in the hard pretty hard with Dozer and hardly got winded at all.  Well he wouldn't eat.  We were out running errands and I reached down and grabbed my phone from my trucks console.  I tell the vet what is going on and luckily our vet was there.  We had the last 1130 am appointment.  Shannon was surprised but I told her this just wasn't normal at all for him.  We're taking him in.
Here we were the last Saturday appointment with Dr. Schumacher in Cedarburg.  We start talking about his allergies and skin.  I stopped.  I was almost angry.  He won't eat,  he's lost a bunch of weight and he looks terrible.  Dr. Schumacher said lets do some blood tests.  He stayed later than normal to run the tests at the office.  He came out with a long chart of blood work numbers.  He said everything looks ok but calcium.  Calcium?  His numbers were double.  So what does that mean?  He told me patiently that in 22 years he has only had 2 cases of this that weren't CANCER.  He was being optimistic and said we need to have him scanned on Monday.  I knew.  I came out into the waiting room in tears.  It was Collin's 1st time at the vet with us.  As we left the Dr. and I decided George would eat whatever he wanted and whatever he would.
I cried the whole way home.  Shannon was trying to stay optimistic but I just knew.  I always had this feeling that by the time they knew what was wrong with him it'd be too late.  So that night and Sunday I spend a lot of time with him…..every damn minute.  Sunday I took him salmon fishing and that night he had fresh salmon off the grill.  
Monday I went into work.  I told them I would have to leave early as George had to be scanned for cancer.  I lost it.  I left and spent all morning with him and Dozer.  Now I have to mention Dozer as he did something amazing that day.  We went to the dog park.  We normally didn't go there but George always loved going there.  We're walking around and this oversized collie mix keeps bothering George.  Dozer used to be a bully himself but after years of constant training he was very good with other dogs.  Well Dozer had seen enough and must have known more than we did.  He took the dog out.  I mean out.  Full speed and nobody was going to mess with his brother.  I rememeber the dogs owner wasn't really upset until I called Dozer over and gave him a pat and told him "good boy" little did she know that was going to be George's last time there.  So a few hours later were having a small lunch as George is getting scanned.  We get a call before we ever came close to finishing our food.  We knew that was bad.  We get back and find our George has a huge mass on top of his heart and a mass in his spline.  It was cancer.  Probably there over a year!  Shannon and I were both crying and poor George is lying on the floor almost lifeless.  I carried him to our truck.  
We get home that night and start looking into alternative vets and care.  They told us we may have a few weeks or a few months.  Tuesday we went to another clinic and bought George all sorts of supplements and herbal remedies.  The real issue was he wouldn't eat.  He stopped taking water at this point too.  He wanted this bowl or that bowl or this faucet or hey dad you drink it 1st then I'll try.  Same thing with food.  Try salmon, then steak, then chicken…once he ate something he would do it again.  He knew every hour of every day  he felt worse and in his mind it must have been from the food or water he was taking in.  So he stopped.
Tuesday afternoon I called my dad and told him he better come over to see George.  He gets to our house and asked where he is.  I said inside.  He comes in the house calling for him.  I said Dad he's really bad.  He's in the family room laying on the floor.  So here's my dad falling to the floor crying as he sees George laying almost lifeless on the floor.  He just wiggled his tail a little to say hi.  My dad isn't really an emotional person but we witnessed him cry like a baby holding our George for the last time.  We knew he wasn't going to last.  He went from running and walking around a few days ago to this.
That night I held George and talked to him.  I told him about all the great things he did.  About how he had changed our lives.  How he was the best friend anyone could ask for and how much we loved him.  We went over it all.  He just listened.  George quit breathing twice that night and both times he started up again when Shannon would hold him crying.  I made a promise to him that night.  We both knew he was dying but we had one for goal.  I told George he was going to get into the dockdogs Hall of Fame.  That night as George was sleeping Shannon and I had a talk.  I knew the end was near.  I didn't want to keep watching him fall over and collapse in pain hurting himself.  He was our champion dog that could jump the distance of our living room and here he was not able to go up or down a single step of our ranch home.  I told Shannon whenever she thought it was time we'd take him in.
He made it through the night.  Shannon watched him the entire time.   He could actually see Shannon was crying  and he'd stumble to the other side of the house so she couldn't see him.  That's how he was always putting us first.
Wednesday morning we took him on our boat.  We took him to his old training grounds and took a walk on the beach were we played so many times.  I had to carry him everywhere.  Everytime he'd try to walk he'd fall over.  Here we were on his beach and he just had this look.  He was in pain.  He kept dry heaving.  We knew.  I helped him into the car and Shannon was crying uncontrolably.  It's time, she said.  We stopped at home so he could see Collin and be with Dozer one last time. I'll never forget Dozer jumped into the back of the truck and gave George one last kiss goodbye.  Here I am 33 years old crying like a baby carrying my labrador into the office.  You could see the pain in people's eyes as we walked past them.  As he laid  there we couldn't even tell he was with us.  We was out.  I was talking with our vet.  He had only ever owned labs.  I remember telling Dr. Shumacher that this was George the greatest dog ever.  He was so kind, so gentle and yet so young.  He had helped raise money for the fight against k9 cancer and here it was taking his.  The Dr. left the room in tears as Shannon and I sat there holding onto him telling him how much we love him and how much we'll miss him.  And we still do.  We cried for not only hours but days.
George was so much more to us than we ever knew.  I remember when I'd have a bad day he'd come over to say Hi and he wouldn't leave my side.  Before Collin, Shannon lost two babies and without George she would've never made it through.  He stayed glued to her for weeks.  The last time we saw my grandfather he didn't remember us, but he remember George.  "he's the smart one and isn't he the Jumper?"  That's the thing people don't realize.  Our lives were George.  We bought a different house with a bigger yard, a bigger truck, a bigger boat.  We now had a camper to travel in to take George to events.  George could meet anyone and bring a smile to there face.  That was him.  Always happy and full of life.  He'd walk with his leash in his mouth.  He'd help us with laundry.  He'd get the remote.  He'd bring you a blanket.  He'd fetch you a pillow.  He'd snuggle with you all day long or play with you all day long.  It didn't matter.  He loved it all and excelled at it all.   He is missed so much.  More than anything we are upset that Collin will never remember him.  We have photos and videos but it isn't the same.  How many of us really get the chance to be part of a life as great as George's.
In Novermeber of 2013 my promise to him was completed.  George was the 21st dog in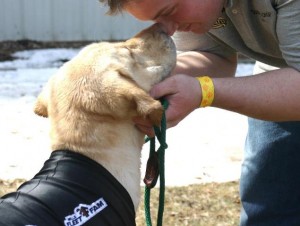 dock dog history to make the hall of fame.  It was a very hard speach but I truley hope I honered him well.
It is with many tears I wrote this.  I miss George so much.  I have lost many people in my life, but it seems almost unreasonable that I miss my dog George more than any and all of them together.  
---
Thank you Dave & Shannon for sharing George's story, I know how hard it has been to write and share his story.  You two gave that boy the best live any pup could ever ask for and for sure GEORGE LIVED !!!!  Sadly like Chase he had to live fast because his time with you was limited, I'm happy to have had the honor in seeing him fly and give his love to you both.
I know your new pup is not George but I know in time he will find his way deep into your heart just like George had.  Thank you so much for helping us "Chase Away K9 Cancer" while attending events thru out your summertime fun.     ((hugs))    Cera