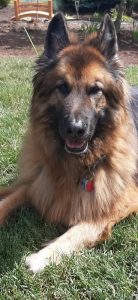 Hi my name is Luke. I was born on May 9, 2009 and cancer took me away from family 11 years and 1 month later on June 9th 2020. I joined my parents when their kids went off to college. I love water, the more the better. I enjoy talking and talking and talking in car rides. My mom was the love of my life, I followed her everywhere. I was known to stand on the deck and wait for her after she was on a trip and call out "Mama" I also spent time with dad in his high school classroom where I gave lots of cuddles to his students who were feeling a bit low. After class I would join him at track and cross country practices. I later joined mom at her practices too and made sure my pack was always covered. My human brother and sister would come home from college and I couldn't get enough of them. I was often the subject of my sister's college art projects. I was happy to pose. My FURbrother, Zeus joined our family when I was two years old. We had a tough first year working out our differences but we ended up loving each other A LOT!
We will love you always and forever,
Heidi Nesheim
________________________________________________________________________________
Our hearts and prayers go out to Heidi and her family on the loss of their sweet boy Luke.  Rest in Peace Sweet boy, we will continue to work hard and fun more studies that will find better ways to treat and cure K9 cancer.