His many titles and his name tell a lot of his story –  MACH 5 Sancrest Luckenbach UD VER RE MXF TQX  AD .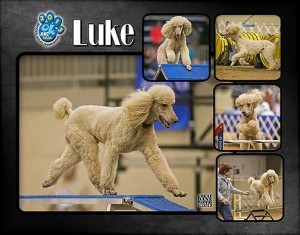 My Luke was a fabulous agility dog and a talented obedience/rally competitor, and he was named for the unique Texas town of Luckenbach.  But that is only a part of the joy Luke brought into my life for twelve wonderful years.
Everyone who knew him smiled at my big apricot standard poodle, and he smiled back at them.  Luke enjoyed all people, from babies to grandmothers.  One of my best memories is of Luke surrounded by daycare toddlers playing with his big fluffy ears after we had provided an agility demonstration.  We competed together for more than ten years, qualifying four times for AKC agility nationals and participating in the 2011 and 2013 events.
Three weeks after Luke qualified for the 2014 Nationals, he did not eat his dinner one night.  A trip to my vet the next morning produced no diagnosis, but something was wrong.  I agreed to exploratory surgery that afternoon.
Cancer (hemangiosarcoma) had invaded all major organs.  With no hope of recovery, I held his paws as he left this world.  The following weekend, at the Weimaraner Club of America agility trial in Murfreesboro, Tn, our agility friends donated $1000 in Luke's memory to Chase Away K9Cancer. 
Sandra Edson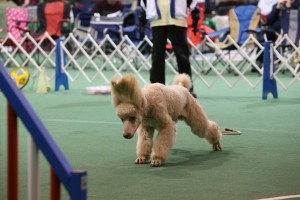 ---
 Thru tears in their eyes Sandra and her wonderful friends have continued to honor Luke with more fund raisers in the agility world.  Sandra and her friend Alison Burnidge organized a bake sale at the Nashville Dog Trianing Club agility trial in Franklin, Tn and raised another $746 to help us "Chase Away K9 Cancer."  No words can describe how I feel when I continue to hear of more wonderful dogs losing their battles with cancer but I know in my heart that Chase has found them and they are all sitting in Heaven waiting for us and they are proud of how we continue to honor all dogs lost to cancer and together we are all doing our part to try and fight for all that are here with us.     Love & Hugs . . . . Cera