It is with great inspiration but great sadness, that we recognize the life and the passing of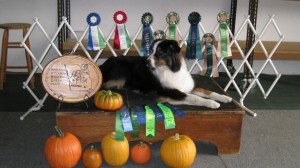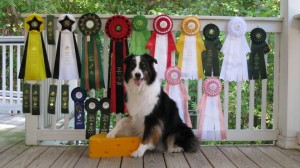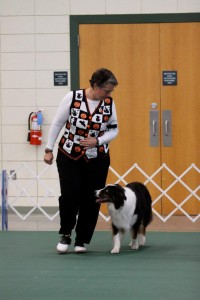 "Spooky", OTCH-2 OTCH-O2 RTCH3 UROG UROC A-CH Nitestar's ABump InThe Night UDX UDX UDX-O U-UD RAE2 URX2 RTX FFX-OG3 DNA-VP CGC. Spooky succumbed to the #1 cancer killer of Australian Shepherds, hemangiosarcoma on June 14th, 2015.
For over 12 years, He was owned and loved by the Pierce Family of Alpharetta, GA: Pat, who was his beloved, lifelong training partner; Karl, Pat's husband; Teddy, their son and Spooky's human littermate and Magic, his female counterpart. The loss of Spooky was devastating for his entire "pack", but Spooky's memory lives on.
Spooky was Pat's "Novice A" teammate who inspired her very first journey into dog training and competition. Over twelve years later, thousands of hours in training and hundreds of hours showing in various events and at numerous venues, Pat and Spooky have accomplished amazing things together. To see them working together was "poetry in motion" and truly an inspiration. Pat has gone on to become an AKC, UKC and ASCA Obedience and Rally judge and Spooky's accomplishments have already made Aussie history.
Spooky's long list of accomplishments include qualifying for two UKC All Star events, three ASCA Rally Finals invitations, one ASCA Novice Obedience Finals (he took 6th), one AKC Open Finals invitation, one AKC Utility Finals invitation, three 2nd Place AKC SuperDog Final wins and one 5th place AKC SuperDog Final win, as the oldest dog participating in the Obedience Finals.
Within United Kennel Club (UKC), Spooky earned his UROC and UROG – United Rally Obedience Championship, and United Rally Obedience Grand Championship. In ASCA, he finished his Altered Championship at age 5 and was the first dog to earn ASCA's RTCH – Rally Trial Championship. He also earned both the RTCH2, and RTCH3 in the last couple of years. In AKC, Spooky finished his first OTCH title in Winston-Salem and finished his OTCH2, not long after that. He finished his OTCH-O taking on the new Utility B plus Open ODX classes, and his OTCH-O2 shortly thereafter. Spooky was not finished either! In his later years, Spooky was still ready to compete on any given day, albeit at a slightly slower pace and was working towards his next accolade when the cancer unexpectedly took away those aspirations.
With multiple AKC, UKC and ASCA Championship titles under his belt, Spooky has not yet fully made his mark on the breed. Even in his passing, Spooky is still leaving his "paw print" on the Australian Shepherd breed. His family donated his body to cancer research with the hopes that a cure one day will be found. In this action alone, Spooky lives on and continues to make a difference for those dogs who will come after him.
A spectacular example of the breed in intelligence, structure, beauty, willingness and desire to please, Spooky was a one in a million dog for all that knew and loved him. Rest in peace handsome boy – Your memory lives on and on.