Havok, a Doberman Pinscher, was a special dog.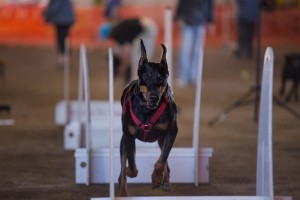 He was what people often call a "Once in a lifetime if you are lucky" dog. He had an amazing zest for life and was a true canine athlete who excelled in everything we tried. He was an AKC Grand Champion of the breed ring, going Reserve Winners Dog at the DPCA Nationals and competing at the AKC National Championships. He also achieved performance titles in Barn Hunt, Rally Obedience, AKC Agility and Lure Coursing. He earned a Herding Capability Test certification on sheep at under a year old, is on the Doberman Register of Merit and served as a registered mobility assistance dog for his owner until she needed a walker full time. However, of all of Havok's activities there can be no doubt his passion was for Flyball. Havok was known around the Pacific Northwest for his inability to stop at the end of the runback and running through more field fencing backstops than not. He earned his ONYX title in NAFA Flyball, which is named after the first dog ever to reach 20,000 poins. Onyx was also a Doberman. At the time of his death he was only the second Doberman in the history of the breed to earn both an AKC Championship aind NAFA ONYX titlem and was the 14th highest point earner in NAFA breed history.Above all of that he, like many dogs, was a beloved member of his family.
Shortly before his 8th birthday Havok was diagnosed with inoperable rectal cancer. The news was devastating for his family. He was taken to Olympia Veterinary Cancer Center, where he received excellent, compassionate care. There is no doubt that the treatment he received there added to the quality of life for the time he had left. Havok continued to compete in the venues he loved through out the course of his treatment.
Havok was quite a character, and had the opportunity to make many friends in the adventures that we shared. He was a dog with no quit in him. That applies equally to his dog sport competitions and his fight against cancer. Unfortunately Havok lost his fight to cancer on November 26,2014, but we can keep up the fight in his memory by raising money for research to improve treatment and one day find a cure for this horrible disease.
In memory of GrCH Stardust X-Men's Havok, RA, NAJ, CA, RAT-I, RAT-O, HCT(s) ONYX, ROM, and all of the dogs out there who are deeply loved, who this disease has or will touch. May we one day find a cure.
______________________________________________________________
Thank you for sharing Havok and honoring him with a very successful fund raiser to help us Chase Away K9 Cancer.  Our heart goes out to you Susan on the loss of such an amazing boy.  Take care and keep all those memories close to your heart.