It was December of 2010 and I decided that it was time for me to get my first dog as an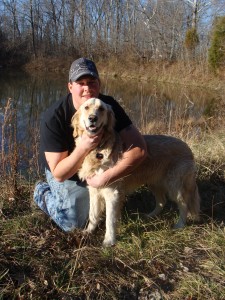 adult.  I decided on a Golden Retriever, a good friend breeds them.  I called my buddy and asked if he had any litters available?  They had two litters that were born just born this month, and a single male from a litter born early November.  I could choose which ever pup that I wanted.
I was in much debate as to choose a male or a female.  My friends have a web site for their pups so I was looking at the pictures and trying to decide.  It was January 1, 2010 and I was at RT's sports bar and grill w/ another buddy of mine talking about the puppies. I decided to leave it to fate and to flip coin.  So I asked the bar tender Fraggle to flip the coin.  Stating that if it landed on heads I'd get a male and if it landed on tails I'd get a female.  Fraggle flipped the coin and it landed heads!  I then decided to get the male that was born on November 6th!  I named him Izzo after the head basketball coach of Michigan State University.  I then registered him w/ the AKC as Lord Izzo.
On the afternoon of January 18, 2011 I got in my truck and drove from Louisville, Kentucky to White Cloud, Michigan, which is just north of Grand Rapids.  On the 19th I met two and half month old Izzo for the first time.  He was 15 pounds and a bundle of joy with monster sized paws that were too big for his body.  On the morning of the 20th at 5 am Izzo and I got in my truck and started our first road trip together.  It is about 464 miles one way from White Cloud, MI to Louisville, Ky.  There was a light dusting of snow on the roads so we had to drive cautiously.  At first Izzo was fine riding in box I had secured to the front seat, but it did not take long for him to get restless.  I pulled into a McDonalds a few miles down the road to get him settled.  It usually takes me 7 hours to make this trip, but due to weather and making extra stops for Izzo it took us about 10 hours.
Izzo and I went everywhere together I estimate the he had driven over 5,000 miles on cross country road trips with me not counting in town driving.  Izzo loved to ride so much that I bought him a jeep last May.  In his first ride w/ me in his jeep we had the back window off and both front windows open.  He had his head in the air enjoying the breeze; he then leaned over to lick my cheek as if to say thanks.  I told him he was welcome!  He officially was a jeep dog from that point on.
  Izzo loved water and anything to do with it from mud puddles, snow, to lakes/pools.  He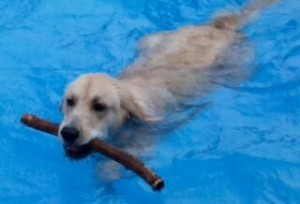 swam in Lake Michigan, and in Lake Geneva, and loved my brother's swimming pool.  He love rolling and running through snow as well.  He loved to chase sticks rather it is on land or in the water.  He also would eat sticks among other things.  Most dogs learn to shake hands, but Izzo learned how to fist pound.  He also learned to sit up and beg and to give high tens!
Then in August of 2012 Izzo had blood in his stool.  First he was treated for an upset stomach due to him potentially eating a foreign object.  Then we treated him for worms, then a parasite.  All of which failed to help.  We then treated him for food allergies with prescription food.  By October with no sign of any improvement we changed vets.  The new vet tried a few different prescription foods.  By this time Izzo started to lose weight, he went from 92 pounds to 83 pounds.  It was black Friday we took Izzo in for some blood work, which revealed elevated enzymes in his liver.  The medication that was prescribed did not help.  So the following Thursday on November 29th we took Izzo in for an ultra sound.  And it was at this time that canine cancer was discovered in his liver.  The vet said there was nothing they could do for him.  So I decided to give Lord Izzo the best life with whatever time he had left.
During the next two weeks Izzo proceeded to live large and in charge.  I cooked him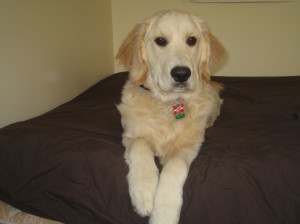 bacon cheese burgers, bacon wrapped steaks.  I would also prepare different ground meats cooked with eggs.  Anything he wanted he got.  And when it became apparent that Izzo was in pain, we made an appointment to end his suffering.  The day was December 12, 2012 and I had one last day with my best friend.  I took Izzo to the park and let him run free.  He chased sticks and would jump in the air to get them from my hand.  We took several pictures and videos of Izzo.  There was pond at this park and despite the temperature being 32 degrees Izzo wanted to go swimming.  So I threw a stick in the water and in he went.  When we left the park I had removed the top off his Jeep and we drove home topless.  He also got to have his first and only Twinkie.  On the way to the vet we stopped by McDonalds for a double cheeseburger and fries.
The appointment w/ the vet was at 5:30 Wednesday December 12th and I was in no hurry to get there.   My parents, sister and her boyfriend met me there.  Izzo was eager to go as usual and quickly jumped out of the jeep.   When I got to the door I paused and contemplated turning around and taking Izzo home.  I then entered the vet's office.  We were the last appointment of the day so they used the waiting area for the procedure.  It was a little after 6p.m. w/ Izzo's head resting on my lap that he passed, he was just over 2 years old.  I never felt so much regret in my life, until I lost my dog.  I regret not knowing that 1 in 3 dogs will be diagnosed w/ some form of cancer.  Often times dogs are diagnosed with the same cancers as humans; regular physical examinations as well as diagnostic testing can detect these cancers before it is too late.  Since the loss of Izzo I have talked to several people who have lost their dogs to cancer, and I find this unacceptable.  So it has become my goal to raise both awareness and funding for canine cancer in the name of Izzo.  If we could save just one dog then it is all worth while.
Kris Osborne
---
Kris,
Thank you for sharing Izzo's story and for joining us in our fight against K9 cancer and I know the event you are planning to celebrate Izzo's life and to help spread K9 cancer awareness will turn out fantastic.
Hugs to you and your family on the loss of such a wonderful young boy……. Cera