The following is a note from Rufus's Mom, you will read how dear Rufus is and how he is doing in his battle against cancer.  You can look him up and keep up on his fight on Facebook by friending him here  "Rufus the Cancer Pitty" 
I am leaving her note unchanged in her own words, enjoy his story and Rufus you keep fighting my friend we are all working hard to help you in your battle against K9 cancer.
---
I know this is long, I tried to make it short..hehe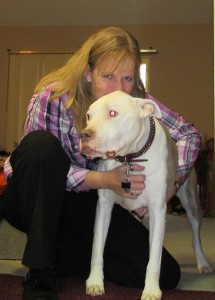 I got Rufus when he was only 6 weeks old from a couple who was a friend of a friend and the woman said her fiancé brought him home and she didn't want a Pit Bull.  I sat on the floor and he came over and crawled up in my lap and that was it.  He has always been very healthy, never sick, nothing and loves food like Scooby Doo, that's all Rufus would think about.  He was taught to say I love you on command but being so smart he learned to say it on his own got him even more treats. 
One night he didn't eat dinner and I know my boy loves food and it was a Sunday night so I couldn't do anything.  Monday morning he didn't eat breakfast either so I called or got him into his vet the next morning which was in January of 2012.  The vet ran tests and called me the next day and told me his kidneys were failing and they were about 75% gone and he needed to be taken to a hospital and put on an IV so I got him in the same day and they ran tests too.  He was there for a couple of days when they told me he had Multiple Myeloma which is a bone marrow cancer, it begins in the plasma cells (white blood cells that produce antibodies) so it can go anywhere being it's in the bone marrow and blood cells.  I didn't think I would ever put him through chemo, but the specialist insisted he would not be sick like people get sick and he could get up to 2 years and I looked at him and he was happy and smiling at me while the doctor told me everything.  I just couldn't give up on him when he was looking so good.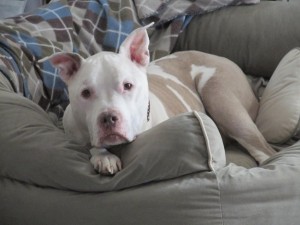 The first month was very hard, he was very lethargic and he spent half of the first month in the hospital.  He wasn't talking to me when I got home, he didn't chew on his nylabones which is his favorite thing to do and I felt he wasn't enjoying life and I was about to tell the doctor this was unfair to him and we should stop when they finally realized that taking chemo pills (Alkeran) 7 days a week was the problem.  Most dogs normally are fine with that amount but it just wasn't good for him.  We did a couple of chemo shots and lowered his dose to 3 a week and he started doing wonderful.  He went in every 2 weeks for tests and over time it was once a month.  In March of 2012 his hind legs were slowly giving out and we found out he had a bulging disc that was pushing on his spine and I felt horrible.  I didn't want to have him not be able to stand and have to say good bye when he was doing so well fighting the cancer, so I agreed to a back surgery. 
It was hard for 2 months but his legs started getting better and he was doing great.  In October of 2012 I created his facebook page to have as a diary of him and honestly thought maybe 10 people would like the page, thinking friends and maybe family.  I had no clue what would happen.  He received so much love and support that it helped me to not be so sad around him.  He is very sensitive to my moods and having so many post sweet and loving things to him helped me to smile and not feel so alone.  Then he started getting gifts in the mail, toys, treats and even money.  I couldn't believe the amount of love and kindness everyone was showing him, I have cried so many times on how much they have all done for us.  I have to say, some of the people closest to me, I've met through his page.  I don't know if they even realize how much them sending all the various treats have helped because he was eating and doing really well until November 2012 when he started not wanting to eat and being very picky with food and treats, so getting the various treats helped so much because he didn't eat a lot and having various treats to offer him helped to keep his weight up.  I took him in and they did an ultra sound and blood work and didn't find anything and they suggested knocking him out and sending a scope down his throat to look at his GI track.  I didn't want to do it, it's a risk to knock him out and he whines and doesn't walk well for 2 or 3 days after, so I went to his regular vet and had them try various medications in hopes of avoiding the scope and after a month nothing was working and I knew it had to be done. 
I entered him in a Morton Salt contest with the chance of winning $10,000 for first place or even $1,000 for 2nd and 3rd and I posted we were trying to win to get the money for this scope.  I had used my savings, maxed out 1 credit card and got another to keep up on his medical bills.  His monthly tests and chemo pills alone are $500-$600 a month.  I didn't ask anyone to help us, I just feel so uncomfortable asking for help and yet people started doing things to raise money for his scope, it was the most amazing thing I had ever seen.  Jake.Lucky.Dixie did and auction as did Binks & Yoda and raised over $1600 and Brittany Day started a chipin for him and raised over $1400, not to mention people sending us checks and money to help and because of everyone being so amazing, he was able to get his scope this week. 
We are waiting on his results of the biopsies they took, but if not for everyone on Facebook we would not have had the money to do the scope and I am still amazed and beyond grateful for what everyone has done for us, not just the money, the treats and their messages of love and support.  It's the most amazingly beautiful thing to ever happen to us and can never thank them all enough for everything they are doing for us.  I was told he would only have a couple of weeks, maybe a couple of months if we didn't try and fight the cancer and here we are a year later and he is still enjoying life.  I don't regret a thing, I have my entire life to get out of debt but only have my special boy for a short time.  He is the most amazingly sweet, silly, smart and handsome guy ever.  I've never had a bond with a dog like I do with Rufus, he is just beyond special.  He has really made my life amazing and the best part of my day is walking in the door and having him standing there wagging his tail and talking away at me, he is priceless.