I like to think that I take good care of my dogs- you know, regular vet checks, quality food, lots of exercise and an active lifestyle. So we were understandably distraught when we found that one of our "furkids," Jake, had lymphoma, and that it had progressed quite far before we recognized it. Nevertheless, Jake fought- and enjoyed life- for almost two years before the cancer took him away. During those months, we focused a lot on Jake to be sure that his bucket list had been fulfilled. This included taking Jake along to many agility trials where we compete with his "sister" Maggie, and where he was showered with attention, treats, and toys of every type from our kind friends. It was at an agility trial, only two weeks after Jake passed that I first recognized that there may be something wrong with Maggie as well.
During a potty break, I picked up Maggie's poop and realized that it was not completely round. It was flat on one side… if you had made a cross cut, it would have been in the shape of a "D." I asked a friend if dogs ever get hemorrhoids (no), and she suggested we see a vet soon. We quickly made an appointment with the oncologist who saw Jake and who had become more like a friend over the two years. "Dr. Buss, you know we love you, and would love to share a cup of coffee some time, but seeing you today is like lemon juice in a cut." He understood, but said not to worry. After all, Maggie was still running agility at incredible speeds- how sick could she be, right?
But the exam was not quite as promising, with a mass associated with her anal gland. The surgery was scheduled for the next Monday, but we went ahead and ran agility that weekend, not telling any of our friends that this could be our last runs- even her last days. The tumor was removed and she was diagnosed with adenocarcinoma. Because of the location of the mass, it could not be removed in its entirety and the pathology report came back with "dirty margins." Dr. Buss suggested we begin chemo immediately, but I shared my concerns regarding Maggie. Her whole life revolves around agility. She lives to run, jump, weave and tunnel-and without these things, she would have no life at all. So we sat down with an agility calendar and planned out a chemotherapy schedule that allowed her to attend our favorite trials. And at the top of this list was the AKC National Championship in Tulsa, a few months away. With each treatment and bloodtest we got a little closer to this trial goal. And during this time, Maggie's hair began to fill in from her surgical shaving, she recovered from the surgery, and ran fast and consistently. Then, in March, we packed the car for Tulsa- the goal we had wished for, and promised we would never ask for any more than this.
Despite chemo, a crazy haircut, and her age (11) Maggie did not want to settle for only this however. She ran fast and precisely, nearly making it to the finals (my fault not hers), and in one event, Premier, an extra difficult game of tight twists and turns, Maggie took first place and brought home a ribbon and cash prize.
Since then, Maggie has finished her round of chemo and has had no signs of returning cancer. She continues to run agility, almost always bringing home first place ribbons. She has earned two additional agility championships, qualified for the 2017 National Championship, and is about to celebrate her 12th birthday. But probably more important, she has become an ambassador for spreading knowledge of anal gland cancer. We tell everyone about the importance of checking- not only the lymph nodes- but also watching your dog's potty habits. By detecting her cancer early, we added considerably to her life expectancy.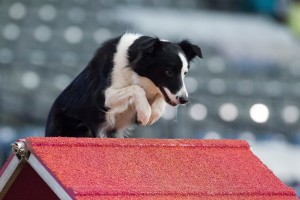 What the last chapter holds for Maggie is still unknown. We expect to soon receive one of the prestigious invitations to the AKC Agility Invitational- an honor set aside for only the top dogs in each breed. I know that I will allow her to run agility as long as she wants, and when she no long wags, barks, and tugs with anticipation, we will know that the end is nearing. But we are not going to think about that now… I have a happy dog that wants to go jump, weave, climb, and LIVE.
Lori LeBlanc and
MACH10 PACH3 Tulla Maggie Lou
MoKan Border Collie Rescue and Cancer survivor
______________________________________________________________
Thank you so much for sharing Maggie's story and for helping to spread K9 cancer awareness.  Keep on running strong and enjoying life Maggie you are an inspiration to all who are lucky enough to see you in action.