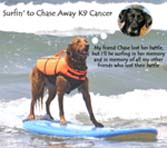 We are very proud to announce that Ricochet, the famous SURFice Dog, has joined our efforts to Chase Away K9 Cancer. "Ricki" is a two-year old Golden Retriever who uses her talents on the water to raise thousands of dollars for various charities and has inspired millions with her SURFice dog video. Click here to view the video.
Ricochet competed at the Surf City Surf Dog contest on September 19th in Huntington Beach, CA, and raised over $1,200 for Chase Away!
Our deepest thanks to Ricki and her mom Judy for helping us fight cancer in dogs.
For more info on Ricochet visit www.surfdogricochet.com