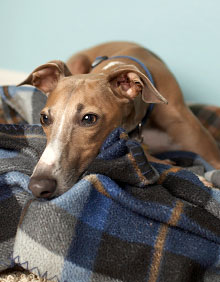 When Debbie Safran and George Rooney learned in November 2006 that their greyhound, Ellie, had osteosarcoma (bone cancer), they spent hours online researching the disease, treatment options, and survival rates. They also met an incredible network of people, who have been in this very same predicament and who have helped them every step of the way. To return the favor, Debbie has put together a booklet called Cancer and Your Greyhound. This collection of essays and articles is meant to serve as a guide to help future owners learn more about this devastating disease and the most appropriate course of action for their greyhound (which sometimes, unfortunately, is no action at all). Included in this booklet are articles by Heidi Jeter of the Morris Animal Foundation, Dr. Jim Bader (a regular contributor to Celebrating Greyhounds magazine), Deborah Straw (author of The Healthy Pet Manual), and Dr. C. Guillermo Couto, from the College of Veterinary Medicine, The Ohio State University, and recipient of an ACVIM Foundation grant.
The booklet is now available for $7.00. All profits ($5.00 per booklet) will be donated to canine cancer research (organization of the author's choosing).
If you or your organization would be interested in purchasing copies of Cancer and Your Greyhound for distribution or if you would like more information about the project, please contact Debbie at (802) 989-2410 or via email at debbie@downdogyogastudio.com.