One of the many reasons Chase Away is special is its grassroots nature. Volunteers from across the United States and Canada work tirelessly to fight against canine cancer and it is only because of their passion and creativity that so much has been done in such a short amount of time.
Our Volunteer Spotlight is a place for us to honor these folks and the good work that they do. If you'd like to nominate a volunteer for special recognition, please email Cera Reusser at chaseawayk9cancer@gmail.com.
Cindy Lowry – California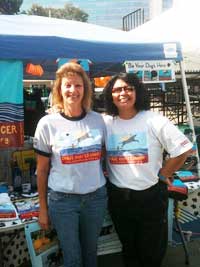 Cindy Lowry is a true animal lover who shares her home with several dogs, turtles, and birds. She currently has three dogs: Lola, a Lab/Rottweiler mix; Buster, a Pitbull mix; and Sadie, a yellow Labrador Retriever. Buster was diagnosed with skin cancer two years ago but he's still around causing trouble for his sisters.
Sadie is Cindy's pride and joy. Sadie is a narcotics detection dog, certified therapy dog, and a retired DockDog. Cindy and Sadie have flown up and down the West Coast to conduct various narciotics searches of ships before they come into port. They also visit hospital patients in Orange County on a monthly basis. Sadie had to retire three years ago from DockDogs due to a back injury but Cindy bought her an above-ground pool where Sadie enjoys swimming around.
Last summer, Sadie was diagnosed with a grade 2 mast cell tumor which fortunately was removed and has shown no signs of returning. This is a credit to Cindy's hypervigliance and frequent home checks for any growths. Far from her first experience with canine cancer (she has also lost two dogs, Midori and Diesel), this recent scare has only fueled Cindy's determination to fight for all of our dogs.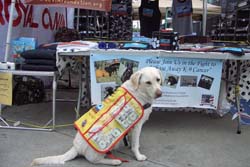 According to Linda Hettich of SoCal DockDogs, "Cindy has been a passionate supporter from the moment Cera launched Chase Away in California in March 2007. Cindy can always be found in the booth and working the crowd with Sadie at various DockDogs events and breed club dog shows. She is filled with so much compassion and often ends up hugging complete strangers who have just had their hearts broken."
We cannot thank Cindy enough for everything she does and for being such a wonderful ambassador for Chase Away.